Interviews
You can read the whole article here.
Although Stoltz occasionally acts when a project is right or a good friend is involved, he describes his relationship to that part of his life as an "amicable parting." He enjoys directing, he said, in part because it gives him a chance to do for other actors what he wished more directors had done for him. "I try to have fun and play with the actors and try to make discoveries without hiding behind video monitors. Usually, the director hides so as not to have to speak to the actors. Occasionally they'll bark out something like, 'Faster!' Or, 'Can you pick up the pace?' "

Matthew Morrison, who plays Will Schuester (a k a Mr. Schue) on "Glee," said he appreciated that Stoltz never assumed, as many directors do, that he was undirectable, simply because he is No. 1 on the call sheet. "It frustrates me when they're scared to direct you," Morrison said. "He knows what he wants, and he'll get it out of you. But once he has it, he'll say, 'Let's do one more take, and you do what you want to do.' And then maybe he'll see something in that take, and say, 'O.K., now we need to do more with some of that flavor.' It's about deepening the scene."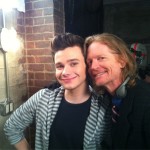 And Eric is back working on Glee.
A couple of pics from the set showed up on Twitter and Instagram in the last couple of days – pic 1, pic 2.
If the IMDB is anything to go by, he is working on episode 4.17, which airs on March 21.
Jenna Ushkowitz posted this photo from the set yesterday: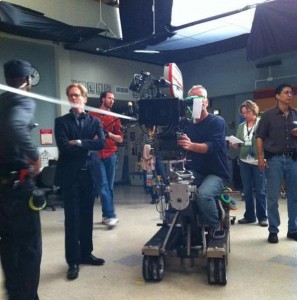 And two more clips from the Pulp Fiction Blu-ray showed up this week. You can find the first one on Facebook. Here is the second one:
Hollywood Reporter has a new article today on Emmy contenders in the directing categories (link). Eric is submitted for Glee 2.04, "Duets." The nominations will be announced on July 14. THR:
Stoltz's Glee episode will battle Kaling's Steve Carell-farewell Office installment, while Gordon's Dexter is up against Matthew Weiner's Mad Men finale. Whether contending for comedy or drama, each of these 12 skilled directors would agree that this year, more than ever, it will be a honor just to be nominated.
And let's snag that quote:
Eric Stoltz
Glee (Fox)
Episode: "Duets"

"Anytime they break into song and dance, it's a massive challenge — both technically and emotionally. You want to be able to tell a story within the story of the song, and with the music and dancing — and the reaction — it can all be a bit overwhelming. Because the show itself has become such a phenomenon, a lot of the actors have become quite savvy and quite sophisticated in their sense of humor and their approach to the work. What I remember about directing this episode is that I tried to get them back to the place of innocence and wonder, perhaps when they were actually auditioning for the show and didn't have the job and weren't affected by the success of the show. I remember feeling a little guilt over two numbers in particular: Amber Riley and Naya Rivera did "River Deep — Mountain High" and Harry Shum Jr. and Jenna Ushkowitz did "Sing," and both of those numbers were incredibly exhausting for them. I kept asking for one more take, and I could see them literally about to collapse on the set. I felt like I was driving them too hard, but they are so passionate about doing good work that I overcame my guilt and they recovered — although they all told me how wiped out they were the following few days. It's a serious feeling you don't often get when you direct a show — that you're physically abusing the actors with the goal of creating something wonderful."