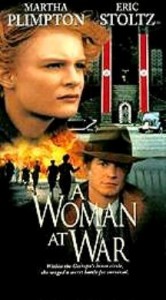 A Woman at War is a wartime drama based on the novel Inside the Gestapo by Hélène Moszkiewiez. It was directed by Edward Bennett from a script he wrote with Reg Godney.
The film was released on VHS in March 1995. It has not been released on DVD yet.
SYNOPSIS:
With the Occupation of Brussels by the Nazis, Helene could forget her ideas of a university degree. Her energy turned towards the hidden fight against the occupiers and gradually, inevitably, she joins the Resistance movement.
CAST:
Martha Plimpton, Eric Stoltz, Jack Shepherd, Kika Markham, Claire Hackett, John Bowler, Sean Chapman, Olgierd Lukaszewicz, Eugeniusz Kujawski, Richard Durden, Paul Mooney
VHS ON AMAZON: Woman at War, A [VHS]
PHOTOS:
TRAILER:
Back to FILMS