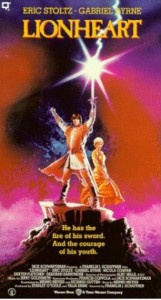 Lionheart (or Lionheart: The Children's Crusade) is a period adventure movie written by Menno Meyjes and Richard Outten, and directed by Franklin J. Schaffner.
Eric plays Robert Nerra, a young knight who leads a group of orphans to join the crusade of King Richard I. Gabriel Byrne plays the Black Knight, a former crusader who wants to sell the kids into slavery.
Lionheart was released in theatres in August 1987 and on DVD in December 2009.
SYNOPSIS:
A young knight sets out to join King Richard's crusaders. Along the way, he encounters the Black Prince, who captures children and sells them as slaves to the Muslims. It is Robert Nerra's sworn duty to protect the children and lead them to safety.
CAST:
Eric Stoltz (Robert Nerra), Gabriel Byrne (Black Prince), Nicola Cowper (Blanche), Dexter Fletcher (Michael), Deborah Moore (Mathilda), Nicholas Clay (Charles De Montfort), Bruce Purchase (Simon Nerra), Neil Dickson (King Richard), Penny Downie (Madelaine), Nadim Sawalha (Selim), John Franklyn-Robbins (The Abbot), Chris Pitt (Odo)
DVD ON AMAZON: Lionheart
PHOTOS:
Back to FILMS