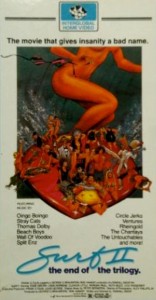 Surf II (or Surf II: The End of the Trilogy) is a comedy written and directed by Randall M. Badat. It is not a sequel to anything.
The film premiered in January 1984 and was released on VHS in January 1985. It was only released on DVD in Italy, but it was an unlicensed copy and is now out of print.
Decent VHS rips can occasionally be found on Ebay and, these days, the film is also available on YouTube.
SYNOPSIS:
Evil Nerd Menlo wants to get revenge on some surfers by selling a bad batch of soda called Buzz Cola which turns people into mutant zombies. It's up to Jocko, Chuck, Bob and their surfer buddies to save the day.
CAST: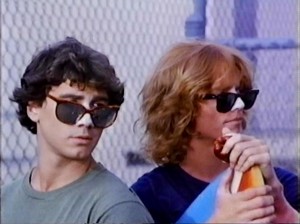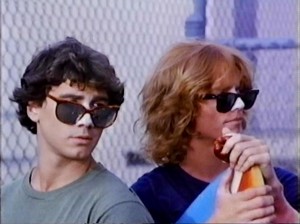 Eric Stoltz (Chuck), Jeffrey Rogers (Bob), Eddie Deezen (Menlo), Tom Villard (Jocko O'Finlay), Lyle Waggoner (Chief Boyardie), Cleavon Little (Daddy O), Linda Kerridge (Sparkle), Peter Isacksen (Beaker), Corinne Bohrer (Cindy Lou), Lucinda Doohling (Lindy Sue), Morgan Paull (Chuck's Dad), Ruth Buzzi (Chuck's Mom), Carol Wayne (Mrs. O'Finlay), Biff Manard (Bob's Father), Terry Kiser (Jocko's Father)
VHS ON AMAZON: Surf II
CLIP (3:22):
Back to FILMS