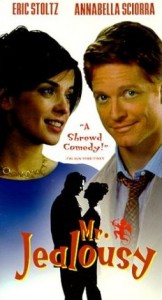 Mr. Jealousy is a romantic comedy written and directed by Noah Baumbach. Other than starring in it, Eric was also an executive producer on the film.
Mr. Jealousy premiered at the Toronto International Film Festival in September 1997 and hit theatres in June 1998. It was released on DVD in March 2000.
SYNOPSIS:
Lester (Eric Stoltz), a blocked writer, becomes obsessed with one of his girlfriend Ramona's former boyfriends, Dashiell (Chris Eigeman), who's recently published an enormously successful book and become a celebrity author. By chance, Lester discovers that Dashiell is taking group therapy; Lester joins the group and pretends to be his friend Vince (Carlos Jacott). When Vince learns about this, he insists that Lester tell him everything that goes on so that he can undergo therapy by proxy. The lies compound until Lester's relationship with Ramona (Annabella Sciorra) hangs by a thread.
CAST:
Eric Stoltz, Annabella Sciorra, Carlos Jacott, Marianne Jean-Baptiste, Brian Kerwin, Chris Eigeman, Bridget Fonda, John Lehr, Peter Bogdanovich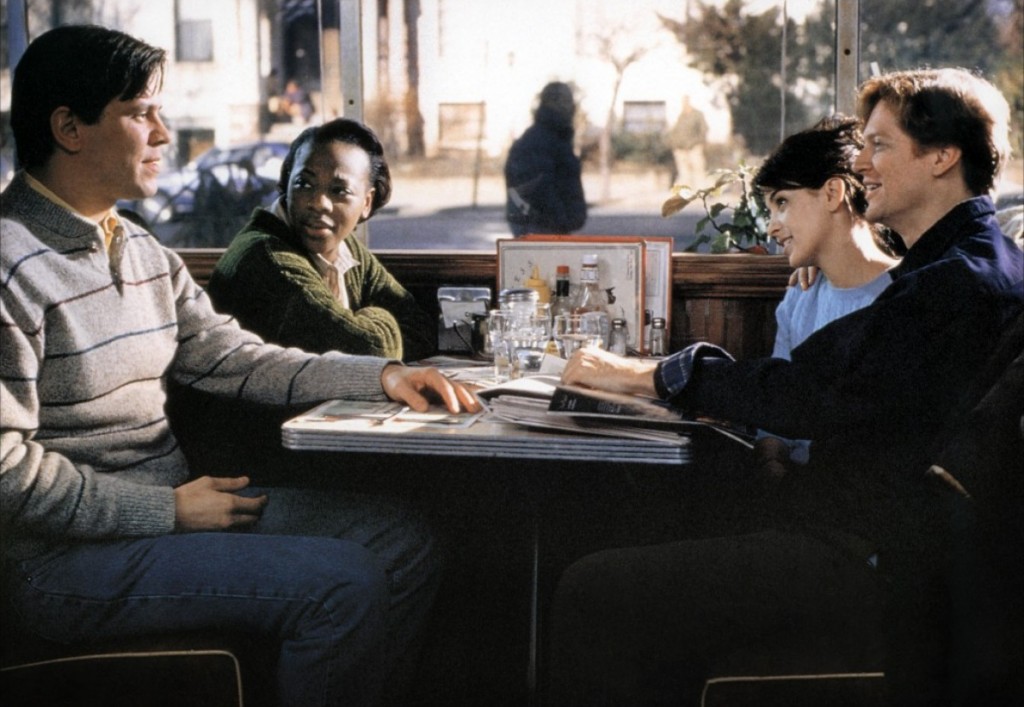 DVD ON AMAZON: Mr. Jealousy
INTERVIEWS: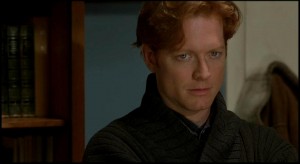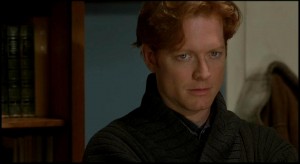 The Toronto Star (August 1998):
Beneath the Woody Allen-like humour lies a message for the '90s, says Stoltz.
"I think it's only in the past 20 or 30 years that we've been able to label behaviour as neurotic and to be able to speak openly about it because of therapy, which really hit its stride in the 1940s and '50s. Classic screwball comedies by Billy Wilder and Howard Hawks had the same issues, but weren't able to articulate them. It wasn't in vogue to label them neuroses and get to therapy." (…)

At the same time he filmed and managed executive producer chores, Stoltz also appeared in Chekhov's Three Sisters on Broadway.
"I would get up at 5 a.m., take the subway to Brooklyn, film until 7 p.m., take the subway back to Times Square, do the play until 11:30 and go to bed. That was a bit foolish. I certainly won't do two jobs at the same time again, but I enjoyed them both. I was just tired all the time."

Being an executive producer, he says, "probably comes from a over-stimulated ego from years of acting. "I've produced a few films, was a production assistant on three others and worked with a lot of great producers, including David Putnam and Martin Scorsese."

He calls Mr. Jealousy "an oft-told tale: You fall in love, behave like a complete idiot, try to save face and move on past your ridiculousness. But the fact that we set it around group therapy sessions, I think, is what's new. We certainly play them for comic relief, but there are nuggets of real therapy. And the Chris Eigeman character (the ex boyfriend) tells my character, 'Maybe it's something you need to go through."'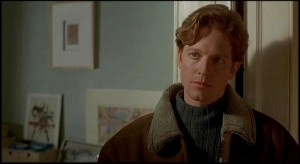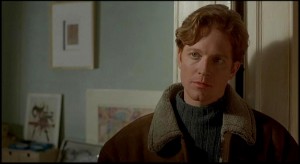 Premiere:
PREMIERE: What's it like for a jealous person to live in the age of *69?
Stoltz: I think modern technology can only fan the flames of the uglier side of obsessive personalities.
Baumbach: For every *69, for every caller ID, there's the blocking out. It's just building up the obsessions. Everybody's keeping themselves private but trying to figure out who the other person is. That's sort of amusing. (…)
Are 90's viewers more therapy-literate than audiences used to be?
Stoltz: Oh, sure. I think we live in a therapy-saturated society. It's rampant – self-help books. Everywhere you turn, people are trying to figure themselves out, which is not necessarily a bad thing.
Baumbach: A lot of people are in therapy trying to figure things out. They have a lot to say that's pretty intuitive, but while they're doing that, there's that whole side they still don't know. They're covering something else…
Stoltz: But we still act like idiots.
Eric, as an actor, have you ever gotten lost in a story you've told in therapy and accidentally taken it to a fictional level?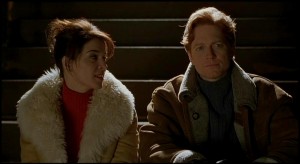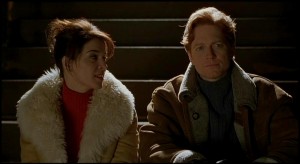 Stoltz: Yes, I'm ashamed to admit. That's usually when my therapist says, "How do you feel about that?" and gets me out of story-telling mode and into that space inside my stomach that's not always comfortable. It's scary, and it's kind of silly and amusing at the same time. A little like stage fright.
indieWIRE (June 1998):
In Lester's case, he becomes fixated on the ex-lovers of his girlfriend Ramona (Annabella Sciorra) to the point that he joins the therapy group of her ex-boyfriend, best-selling novelist Dashiell Frank (Chris Eigeman). He poses as his best friend, Vince (Carlos Jacott) whose problems he starts confessing in order to find out what's so great about ex-boyfriend Dashiell. This behavior might seem particularly obnoxious, but both director and star feel that this craziness can be seen as a natural progression of the usual jealous urges that relationships often inspire. Eric Stoltz explains, "We've all been in a relationship where the partner has had more experience, and I think for the guy that's much more uncomfortable. And rather than sit back and enjoy the benefits of her previous erotic encounters, I took the opposite tack and started acting foolishly, obsessively, and much comedy ensues."

Of course the whole scheme blows up in Lester's face, when everyone involved learns what a pathetic sneak he is. Along the way, there are some hilarious conversations about the relationship game and interesting insights into the ugly green monster that's hounding the poor schmuck. A great cast, especially indie stars Sciorra and Stoltz, lend believability to a film that could otherwise have amounted to an urban tall tale. Stoltz even admits jokingly that in real life, "I became a little obsessed (with Annabella). I had a little crush. I became a little curious about her ex-s and her life. That's what we do. That's what I do. There's a point where you know this is a job and you don't bring it home. But basically one of our jobs is to fall in love with the person that we are falling in love with on film." Part of the film's effectiveness lies in Lester's credibility as a character. Even as he lies to Ramona, deceives Dashiell along with his entire therapy group, and otherwise acts like a complete creep, he remains a sympathetic character, because we understand what drives Lester's lunacy.
Back to FILMS