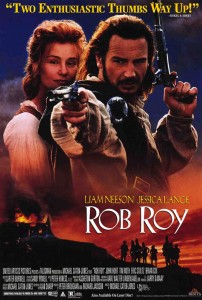 Rob Roy is a period drama, very loosely based on historical fact, written by Alan Sharp and directed by Michael Caton-Jones, starring Liam Neeson and Jessica Lange. It was filmed on locations around Scotland in 1994.
The film was released in theatres in Canada and the U.S. in April 1995. Tim Roth was nominated for a bunch of awards, including a Golden Globe and an Oscar for Best Supporting Actor, and he won a BAFTA for his sneering villain, Cunningham.
Rob Roy was released on DVD in October 1997 and on Blu-ray in January 2011.
SYNOPSIS:
Robert Roy MacGregor (Liam Neeson) is a cattle drover and the leader of a clan in 18th century Scotland. He seeks and receives a loan of £1,000 from the Marquis of Montrose (John Hurt). One of the Marquis's henchmen, Archibald Cunningham (Tim Roth), learns about the loan from Montrose's factor, Killearn (Brian Cox). Cunningham kills MacGregor's best friend MacDonald (Eric Stoltz) and steals the money.

Unable to pay his loan, MacGregor is forced to become an outlaw when he refuses to bear false witness for Montrose against the Duke of Argyll (Andrew Keir). He is hunted by Cunningham, who rapes MacGregor's wife Mary (Jessica Lange) to provoke him, resulting in a climactic sword duel to the death between Rob Roy and Cunningham.
CAST:
Liam Neeson, Jessica Lange, John Hurt, Tim Roth, Eric Stoltz, Brian Cox, Andrew Keir, Brian McCardie, Gilbert Martin
DVD ON AMAZON: Rob Roy
BLU-RAY ON AMAZON: Rob Roy [Blu-ray]
BLU-RAY REVIEW:
If you're into epic movies about masculine individuals defending hearth and home and avenging their kin, Rob Roy is certainly worth another look. The film got overshadowed by Mel Gibson'sBraveheart in 1995, but it doesn't deserve to be left completely in the dark. While it may seem slightly dated—all of the those mid-1990s male-centric period pieces do—there's plenty of swashbuckling action and tear-jerking drama for fans of the men-in-kilts genre. While MGM's Blu-ray release comes with exactly zero bonus features, the strong high definition image may be enough to provoke an upgrade from those still holding onto their Rob Roy DVDs. – Blu-ray.com
PHOTOS:
TRAILER:
Back to FILMS