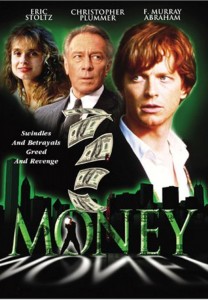 Money is a drama based on a novel by Paul-Loup Sulitzer, adapted for the screen by Larry Pederson and Gordon Roback. The film was directed by Steven Hilliard Stern.
It premiered in 1991 and came out on DVD in August 2003.
SYNOPSIS:
Frank Cimballi (Eric Stoltz) is a 21-year-old rich kid who goes to claim his inheritance only to find it's been embezzled by his father's former business partners.

Traveling the globe in search of the white-collar thieves who have robbed him of millions, Frank locates his father's seriously ill associate Will Scarlet (F. Murray Abraham), who admits to his role in the crime and agrees to help Frank track down the rest of the men on his revenge list.
CAST:
Eric Stoltz, F. Murray Abraham, Maryam d'Abo, Bruno Cremer, Mario Adorf, Anna Kanakis, Christopher Plummer, Bernard Fresson, Angelo Infanti, Tomas Milian, Danny DeVito
DVD ON AMAZON: Money
PHOTOS:
Back to FILMS