Eric guest starred on Will & Grace in the two-part season seven finale. He played Tom Cassidy, Grace's old boyfriend from college.
EPISODES: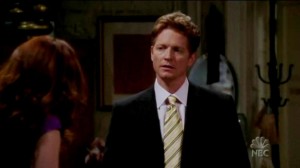 7.23 Friends with Benefits
SYNOPSIS:
Having quit his job at the law firm, Will turns to a career in writing where he catches the eye of Malcolm, who claims to have high-profile connections — but when his writing career fails, Malcolm has another job offer for Will. Meanwhile, Tom, an old flame from college, returns to ask Grace to design a hotel that he and his wife just bought — only to discover that there are still romantic feelings between the two of them. Jack struggles to produce his latest show for Out TV, but spoiled child star Randall fails to embody Jack's vision. Under threat of a lawsuit, Karen is forced to publicly apologize to Beverley Leslie for an embarrassing rumor.
WRITTEN BY: Jon Kinnally, Tracy Poust, David Kohan (creator), Max Mutchnick (creator)
DIRECTED BY: James Burrows
AIR DATE: May 19, 2005
7.24 Kiss & Tell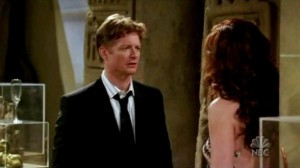 SYNOPSIS:
After his first day, Will becomes suspicious of his new job — especially when he finds himself in an empty office with no co-workers, a German shepherd and a Russian-speaking thug. When Will confronts his new boss Malcolm, he discovers a startling secret about an old friend. Meanwhile, Grace quits the hotel design job when Tom can no longer hide his feelings for her. At OutTV, Jack has been promoted to host of his own show, "Jack Talk," and is reveling in his newfound celebrity until the network tells him to split the spotlight with his new co-host — Karen.
WRITTEN BY: Gary Janetti, David Kohan (creator), Max Mutchnick (creator)
DIRECTED BY: James Burrows
AIR DATE: May 19, 2005
Back to TELEVISION