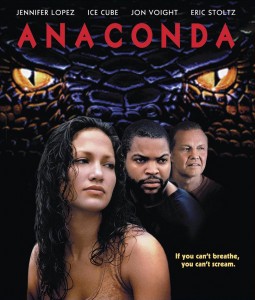 Anaconda is a horror/adventure movie written by Hans Bauer, Jim Cash and Jack Epps Jr., and directed by Luis Llosa. It opened in April 1997, was a huge hit at the box office, and spawned three sequels.
SYNOPSIS:
When a documentary crew travelling through the Amazon jungle, picks up a stranded man, they are unaware of the trouble that will occur. This stranger's hobby is to capture the giant Anaconda snake, and plans to continue targeting it on their boat, by any means necessary.
CAST: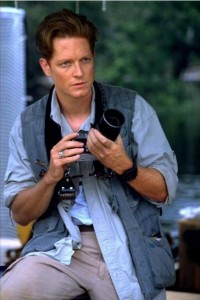 Jennifer Lopez, Ice Cube, Jon Voight, Eric Stoltz, Jonathan Hyde, Owen Wilson, Kari Wuhrer, Vincent Castellanos, Danny Trejo, Frank Welker
DVD ON AMAZON: Anaconda
BLU-RAY ON AMAZON: Anaconda [Blu-ray]
BLU-RAY REVIEW:
The Video:
Anaconda debuts on Blu-ray in an AVC encoded 2.40.1 anamorphic widescreen 1080p transfer. While there's more detail than there was on previous DVD releases of the movie, there's a bit of edge enhancement in some spots and the picture isn't quite as strong as you'd hope it would be. Colors look pretty good and the lush jungle provides a great visual backdrop for the goofy action to play off of, but skin tones are, in some spots, just slightly waxy looking. Black levels look nice and strong, however, and the flora and fauna in the various scenes really does look quite good. This isn't a great transfer, but it's okay.

The Audio:
The English language Dolby TrueHD 5.1 soundtrack is active and aggressive just as you'd expect it to be. The snake attack scenes feature some great surround usage and bass response is quite strong. Dialogue stays clean and clear throughout and the levels are all well balanced.

There are no problems at all with even a trace of hiss or distortion to note and overall, Anaconda sounds really good. Alternate TrueHD 5.1 tracks are included in French and Portuguese while a standard definition Dolby Digital 5.1 Surround Sound mix is supplied in Spanish. Subtitles are available in English, English SDH, French, Portuguese and Spanish.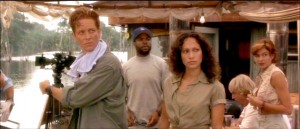 The Extras:
Here's where this release really disappoints – aside from some trailers for a few other completely unrelated Sony titles, and some menus and chapter selection, this Blu-ray disc is completely barebones. Given the previous releases, it probably won't surprise many people (standard definition releases have been weak on extras as well) but it's still disappointing. — DVDTalk.com
TRAILER:
Back to FILMS