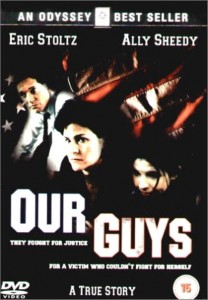 Our Guys: Outrage at Glen Ridge is a drama adapted from a book by Bernie Lefkowitz (Our Guys: The Glen Ridge Rape and the Secret Life of the Perfect Suburb), which was based on a true story. Paul Brown wrote the script and Guy Ferland directed the film.
Our Guys premiered on ABC in May 1999 and was released on DVD in October 2007.
SYNOPSIS:
In 1989, a group of well-known high school athletes in Glen Ridge, New Jersey were accused of the gang rape of a mentally retarded teen girl. When the town rallies to protect their stars, a detective and the prosecutor have to unravel the cover-up by the school board and the police.
CAST: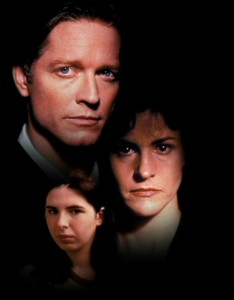 Ally Sheedy (Kelly Brooks), Heather Matarazzo (Leslie Farber), Eric Stoltz (Robert Laurino), Sara Botsford (Mrs. Farber), Scott Vickaryous (Paul Archer), Eric Keenleyside (Frank Bennett), Michael Tomlinson (Mr. Farber), Brendan Fehr (Barry Bennett), Tygh Runyan (Chris Archer), Doron Bell (Carl Brewer)
DVD ON AMAZON: Our Guys (U.S.), Our Guys ( Our Guys: Outrage at Glen Ridge ) [ NON-USA FORMAT, PAL, Reg.2 Import – United Kingdom ]
LIFETIME.COM (upcoming air dates)
TRAILER:
Back to FILMS