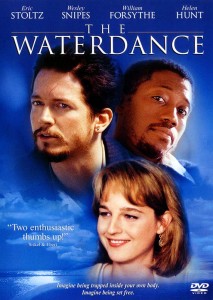 The Waterdance is a 1992 drama written by Neal Jimenez, who also directed the film with Michael Steinberg. It premiered at the Sundance Film Festival in January 1992 and was released in theatres later that year, in May.
The film was nominated for a bunch of awards, including the one for Best Casting for Feature Film from the Casting Society of America. It won the Independent Spirit Award for Best First Feature, the Audience Award and Waldo Salt Screenwriting Award at the 1992 Sundance festival, and the Gold Special Jury Award for Best Actors at the 1992 Houston WorldFest.
The Waterdance was released on DVD in December 2001.
SYNOPSIS:
Author Joel Garcia breaks his neck while hiking, and finds himself in a rehab center with Raymond, an exaggerating ladies man, and Bloss, a racist biker. Considerable tension builds as each character tries to deal with his new found handicap and the problems that go with it, especially Joel, whose lover Anna is having as difficult a time as he is. As Raymond reveals a dream about dancing on the surface of a lake to stay afloat, it becomes apparent that each of them must find his own Waterdance to survive his tragedy.
CAST:
Eric Stoltz, Helen Hunt, William Allen Young, Wesley Snipes, Elizabeth Peña, Tony Genaro, Henry Harris, Eva Rodriguez, William Forsythe, Grace Zabriskie, Kimberly Scott, James Roach
Background info, from a 1992 interview with Eric and Neal Jimenez at Bombsite.com:
I first met directors Neal Jimenez and Mike Steinberg (absent from this piece because he's prepping his next film Bodies Rest In Motion) at a rather upscale Mexican restaurant in Los Angeles. We were meeting to talk about The Waterdance, one of the best scripts I'd read in years. Whether or not I'd do the film was contingent upon a meeting, to see if we all had the same vision for the film and more importantly, to see if we got along with each other.

We talked for a while about recent films we'd seen—and disagreed quite a bit, causing me to wonder who'd get stuck with the bill.
First meetings are always a bit strained—but thankfully, Neal has a wonderfully sharp and biting wit. He made a few jokes. Unfortunately, they weren't funny, but I'd read several of his scripts (River's Edge, It Only Rains At Night) and knew him to be one of the most talented up and coming young writers around.
As the dinner progressed, we loosened up and finally hit it off—leading to one of the most productive and gratifying work experiences I've had. And yes, I was stuck with the dinner bill.
—ERIC STOLTZ

Being first time directors, Mike Steinberg and I saw every piece of film on Eric Stoltz (Mask,Memphis Belle, Some Kind of Wonderful, Manifesto, etc.) even though we had already met and hired him. It goes without saying—though Eric requires I do—that we knew we were working with a great actor. But one who had not yet quite played an adult on screen. The Waterdance afforded him this chance, and Mike and I were both overjoyed at his performance. He came to the editing room constantly, to bug us and give us suggestions. We owe him a debt. $85.47, to be exact. He is an actor of great sensitivity, passion, and dedication, and I'm sure we'll stay in touch for the years to come. Or until he gets his money.
—NEAL JIMENEZ
Question: I thought that your performance as a quadriplegic was astounding. What did you do to prepare yourself for that role?

EStoltz: Oh goodness, Well, I stayed in a wheelchair for several months. I spent some time at the actual hospital talking to people who are actually living the experience. But even that research wasn't nearly enough. I don't think anyone can really understand that experience unless they live through it and I can only make a stab at an approximation. In fact, the whole issue of researching a role is something I hate to read about. So I should shut up now. – AOL chat, 1996
DVD ON AMAZON: The Waterdance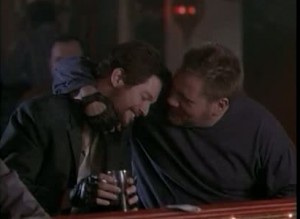 DVD REVIEW:
The video transfer is merely adequate, but is largely uneven. At times The Waterdance looks terrific, but at other times, especially during scenes that take place at night, there's a high level of graininess that occurs. At other times blacks simply aren't as deep as they could (or should) be, and at other times a lack of flesh tones make the characters look like Boo Radley (and I'm not referring to the scenes where the injured characters are supposed to look pale). During other scenes there were hints of noticeable edge enhancement, but it was less than the usual level of edging than the typical transfer from Columbia. All in all it wasn't distracting. The audio transfer is a flat two-channel presentation, but since The Waterdance depends on conversation instead of flashy special effects and 'splosions there's nothing necessarily wrong with that. The Waterdance is light on special features, providing only a theatrical trailer and filmographies of the stars and directors. – DVDVerdict.com
TRAILERS:
Back to FILMS