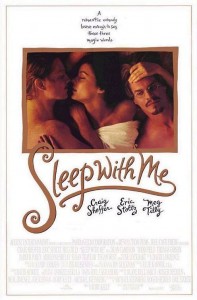 Sleep with Me is a 1994 drama/comedy written by Duane Dell'Amico, Roger Hedden, Neal Jimenez, Joe Keenan, Rory Kelly and Michael Steinberg, and directed by Rory Kelly.
The film was screened at the Cannes Film Festival in spring 1994 and released in theatres later that year, in September.
It was released on DVD in March 2004.
SYNOPSIS:
Six different writers wrote a scene each of this romantic comedy featuring the marriage and turbulent relationship of Joseph and Sarah, with Joseph's best friend Frank trying hard to cope with letting the love of his life marry his best friend.
CAST:
Meg Tilly (Sarah), Eric Stoltz (Joseph), Craig Sheffer (Frank), Tegan West (Rory), Dean Cameron (Leo), Thomas Gibson (Nigel), Parker Posey (Athena), Joey Lauren Adams (Lauren), Todd Field (Duane), Lewis Arquette (Minister), Quentin Tarantino (Sid)
DVD ON AMAZON: Sleep With Me
PHOTOS:
CLIP:
TRAILER:
Back to FILMS