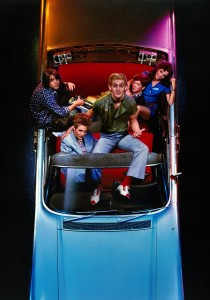 The Wild Life is a 1984 film written by Cameron Crowe and directed by Art Linson.
It was released in theatres in September 1984. It is available on VHS and Laserdisc, but has not been released on DVD yet.
SYNOPSIS:
The plot revolves around the characters of three teenagers living in the suburbs of Los Angeles. Bill (Eric Stoltz) has just graduated from high school and got his first apartment. His younger brother Jim (Ilan Mitchell-Smith) spends a lot of time practicing with his Nunchakus, getting high, listening to heavy metal, and hanging out with Vietnam vet Charlie (Randy Quaid).

Other important characters include Tom (Chris Penn), a hedonistic high-school wrestling champ, a trendy department store manager named Harry (Rick Moranis), Anita (Lea Thompson), who works at a donut shop, and her friend Eileen (Jenny Wright), who works at the department store. Anita has a fling with a cop named David (Hart Bochner), who, unknown to Anita, is married.
CAST:
Eric Stoltz (Bill Conrad), Chris Penn (Tom Drake), Ilan Mitchell-Smith (Jim Conrad), Jenny Wright (Eileen), Lea Thompson (Anita), Brin Berliner (Tony), Rick Moranis (Harry), Hart Bochner (David Curtiss), Susan Rinell (Donna), Cari Anne Warder (Julie), Robert Ridgely (Craig Davis), Michael Bowen (Vince), Randy Quaid (Charlie), Sherilyn Fenn (Penny Harlin)
INTERVIEW:
Though Stoltz had small parts over the next few years in various movies with names like Surf II, the first opportunity he had to employ his new technique in a starring role was in The Wild Life (the sequel to Fast Times), in which he played a recent high-school grad who rents an apartment in a swinging singles complex. "I got a job at a bowling alley, moved into Oakwood Apartments in Burbank and tried to live that life. It was awful. I had to clean other people's shoes, deal with women's bowling day. The time really dragged. On one level it was no fun at all, but on another level it was real interesting. I had the opportunity to hang out in the apartment complex's clubhouse and down by the pool. The place was filled with recently divorced people who were licking their wounds. I did that for two months. And, ultimately, it did make it easier to do the character." — Movieline, June 1992
VHS ON AMAZON: The Wild Life [VHS]
LASERDISC ON AMAZON: The Wild Life (Laserdisc)
PHOTOS:
CLIP:
1:40
TRAILER:
Back to FILMS