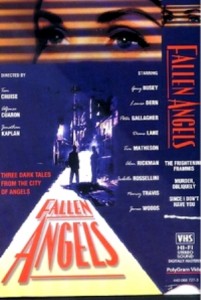 Fallen Angels is a neo-noir crime series that aired on Showtime from August 1993 to December 1995.
Eric appeared in the second season as an ambitious young detective trying to catch a serial killer who was targeting dancers. Richard Portnow played his partner and Jennifer Grey starred as a dancer who knew one of the victims.
The second season of the show was released in several volumes under the title 'Perfect Crimes' in Europe and Australia. "A Dime a Dance" is included in Vol. 3.
In the United States, only the first season was released in a two-volume VHS set.
Fallen Angels 2.03 A Dime a Dance
SYNOPSIS: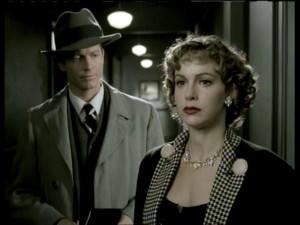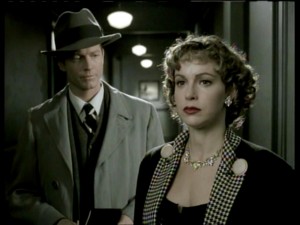 A police detective investigates the untimely death of a nightclub dancer at a local hang-out but his investigation is called off by the police brass. The problem: the killer is still on the loose.
CAST:
Jennifer Grey (Ginger Allen), Eric Stoltz (Nick Ballestier), Richard Portnow (Jack Malkov), Wayne Grace (Pat Marino), Douglas Roberts (Jack Chieseman), Estelle Harris (Mom Henderson), L.B. Straten (Julie)
WRITTEN BY: Allan Scott (teleplay), Cornell Woolrich (short story, "The Dancing Detective")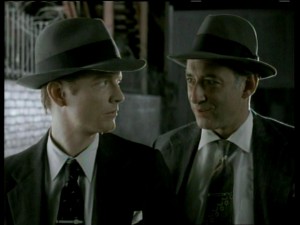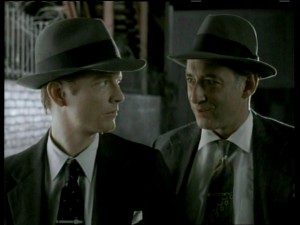 DIRECTED BY: Peter Bogdanovich
AIR DATE: October 22, 1995
DVD ON AMAZON: Perfect Crimes III [Region 2 DVD – Europe], Perfect Crimes Vol. 3 ( Fallen Angels ) (A Dime a Dance / Good Housekeeping / The Black Bargain) [NON-USA FORMAT, PAL, Reg.0]
Back to TELEVISION