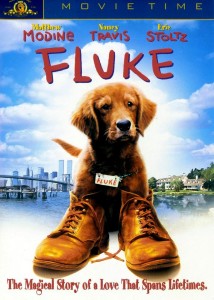 Fluke is a comedy adapted from James Herbert's novel of the same name, directed by Carlo Carlei, who also wrote the script, along with James Carrington.
In 1996, Fluke was nominated for two Saturn Awards, for Best Fantasy Film and Best Performance by a Younger Actor (Max Pomeranc).
The film hit theatres in June 1995 and was released on DVD in March 2001.
SYNOPSIS:
Workaholic Thomas Johnson dies in an auto accident and comes back to life as a dog. Remembering some of who he was, he returns to his wife and son to protect them from the man who caused his accident. But, as time goes by, he remembers more of his life, and realizes he wasn't such a good husband and father.
CAST:
Matthew Modine (Thomas Johnson/Voice of Fluke), Nancy Travis (Carol Johnson), Max Pomeranc (Brian Johnson), Samuel L. Jackson (Voice of Rumbo), Eric Stoltz (Jeff Newman), Ron Perlman (Sylvester), Jon Polito (Boss), Bill Cobbs (Bert)
DVD ON AMAZON: Fluke
TRAILER:
CLIP (1:30)
Back to FILMS