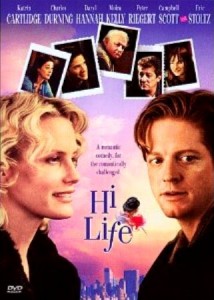 Hi-Life is a comedy written and directed by Roger Hedden. It premiered at the Chicago International Film Festival in October 1998, hit theatres in December, and was released on DVD in January 1999.
SYNOPSIS/REVIEW:
As its plot plays out on a single night late in the Christmas season, its decent protagonist, Ray (Campbell Scott), the bartender at the Hi Life on Manhattan's Upper West Side, sets out to call in his many good-hearted loans to raise the $900 he thinks his sister, Susan (Moira Kelly), needs for an abortion.

The putative father to be (for a third time) is her putative actor boyfriend, Jimmy (Eric Stoltz). But in fact, Susan knows the money is meant for an abortion for Jimmy's sister, Maggie (Daryl Hannah), who happens to have broken Ray's heart. Susan knows because Jimmy told her so.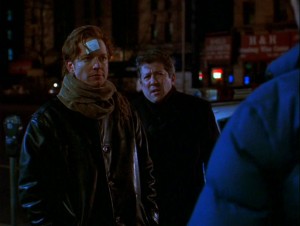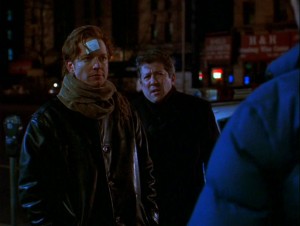 But as the worthless Jimmy knows, the $900 is really intended to pay his gambling debt to the bartender-bookmaker Fatty (Charles Durning), who is threatening a beating.
Fatty assigns his pal Minor (Peter Riegert) to escort Jimmy to make sure the money arrives safely that night, but Minor has other plans. He assigns his girlfriend's son Ricky (Carlos Alban) to hold up Jimmy and him at gunpoint so that he can keep the money for himself. — The New York Times
CAST: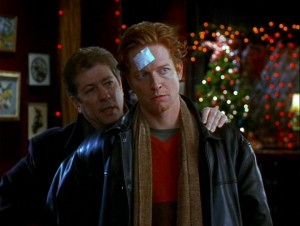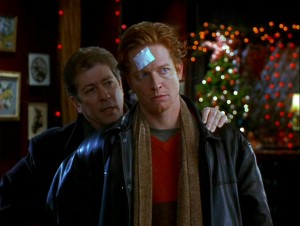 Campbell Scott, Moira Kelley, Michelle Durning, Eric Stoltz, Daryl Hannah, Peter Riegert, Charles Durning, Katrin Cartlidge, Saundra Santiago, Carlo Alban, David Aaron Baker, Steve Gilger
REVIEWS:
It's been a good year for shaggy dog stories. First The Big Lebowski, then I Went Down, and now Hi-Life. Tales of loyalty tested by money, these films have had nothing much loftier in mind than enticing the viewer into the pleasure of following a leisurely, roundabout, often hilarious narrative.

Such unpretentiousness is a welcome change for Roger Hedden, whose two previous screenplays, Bodies, Rest and Motion and Sleep With Me, were similarly meandering in plot but were populated with whining Gen-X characters angsting over portentous sexual and existential crises.

In Hi-Life, Hedden's directing debut, he merely seems out to have a good time, and his high spirits have clearly spread to his fine ensemble. — Village Voice
Screenwriter Roger Hedden's (Bodies Rest And Motion, Sleep With Me) directorial debut concerns one night in the lives of a group of New Yorkers who cross paths when each becomes involved with a vague plan to raise money for either a lump sum owed to a bookie or one of two fictional abortions.

At the center of Hi-Life is a slightly staid bartender (Campbell Scott), a hard-drinking British barfly who takes a shine to him (Naked's Katrin Cartlidge), and the unsuccessful actor (Eric Stoltz) whose attempts to pay off a loan set the film's farcical plot into motion. — The A.V. Club
DVD ON AMAZON: Hi-Life
CLIP:
Back to FILMS