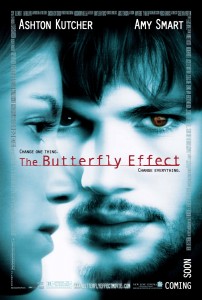 The Butterfly Effect is a psychological thriller written and directed by Eric Bress and J. Mackye Gruber. It opened in theatres in January 2004 and was released on DVD later that year, in July.
SYNOPSIS (from Wikipedia):
Evan Treborn (Ashton Kutcher), who suffered severe traumas as a boy (played by Logan Lerman) and a teenager (played by John Patrick Amedori), blacks out frequently, often at moments of high stress. While entertaining a girl in his dorm room, he finds that when he reads from his adolescent journals, he travels back in time, and he is able to basically "redo" parts of his past, thereby causing the blackouts he experienced as a child. There are consequences to his choices, however, that then propagate back to his present life: his alternate futures vary from college student, to prisoner, to amputee. His efforts are driven by the desire to undo the most unpleasant events of his childhood which coincide with his mysterious blackouts, including saving his childhood sweetheart Kayleigh (Amy Smart) from being molested by her father (Eric Stoltz) and harassed by her aggressive brother (William Lee Scott).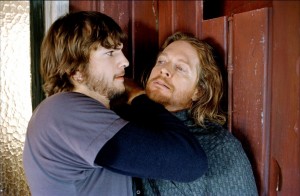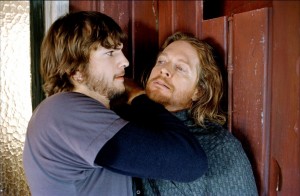 CAST: Ashton Kutcher (Evan), Amy Smart (Kayleigh), Melora Walters (Andrea), Elden Henson (Lenny), William Lee Scott (Tommy), John Patrick Amedori (Evan at 13), Logan Lerman (Evan at 7), Eric Stoltz (Mr. Miller), Callum Keith Rennie (Jason)
OFFICIAL SITE: www.newline.com
DVD ON AMAZON: The Butterfly Effect (Infinifilm Edition)
DVD REVIEW:
The Butterfly Effect is part of New Line's "Infinifilm" line, and features a nice array of extra features. Aside of the director's cut (which features an extra six minutes of footage that is darker in tone, and a slightly different ending), The Butterfly Effect sports two featurettes: "The Science and Psychology of Chaos Theory" and "The History and Allure of Time Travel." Both of the featurettes are short (the first runs nine minutes and the second 13 minutes) and include various folks who worked on the film—as well as science folks and psychotherapists—discussing the appeal of the film and some of the ideas behind how time travel works. I can't say I was all that excited about either of these shorts. Hardcore fans of the film may feel otherwise.

Next up is a subtitled "Fact Track" that includes info on the movie, the ideas presented in the film, and other tidbits on all things Butterfly Effect. This is a nice way to view the movie as well as get the inside scoop on the flick.

A screen-specific commentary track with writer/directors Eric Bress and J. Mackye Gruber provide viewers with more information about the film, including casting, directing, the story, the special effects, and lots more. Other featurettes include "The Creative Process," which gives viewers a look at what it took for Bress and Gruber to get their vision from script to screen, and "Visual Effects," which takes a brief look at the time travel special effects.

Finally there is a collection of about nine deleted scenes from the film (presented in anamorphic widescreen) and a theatrical trailer for the film. — DVDVerdict.com
DVD EXTRAS: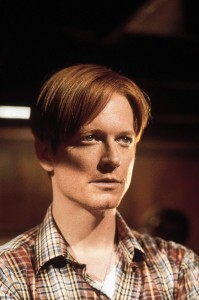 Documentaries:
The Science and Psychology of the Chaos Theory documentary
The History and Allure of Time Travel documentary
Fact Track – Trivia Subtitle Track
All Access Pass features:
Filmmaker Commentary by directors Eric Bress and J. Mackye Gruber
Deleted and alternate scenes
The Creative Process
Visual effects
Storyboard gallery
Original theatrical trailer
DVD-ROM features:
Script-to-Screen (Director's Cut)
Commentary digest
Gallery
Scene medleys
TRAILER:
Back to FILMS