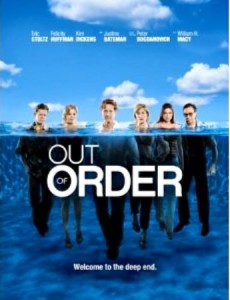 Out of Order is a drama created by Donna & Wayne Powers, who also wrote all five episodes of the show's first and only season.
The show aired on Showtime in June 2003. The two-hour pilot was released on DVD in January 2004 and the remaining four episodes are available on YouTube (starting here).
The uncut version of the show occasionally shows up on iOffer.com.
DVD ON AMAZON: Out of Order
CAST:
Eric Stoltz (Mark Colm), Felicity Huffman (Lorna Colm), Kim Dickens (Danni), Dyllan Christopher (Walter), Justine Bateman (Annie), William H. Macy (Steven), Peter Bogdanovich (Zach), Lane Smith (Frank)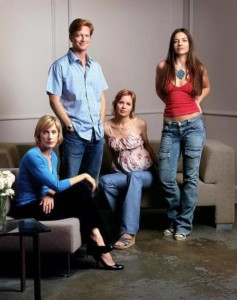 EPISODES:
1.01/1.02 Pilot
SYNOPSIS:
After sixteen years of marriage, Mark finds himself attracted to another woman while dealing with his wife's emerging mental illness. Mark and Danni explore the possibility of an affair with each other, while Lorna is continuing a downward spiral of self destruction.
WRITTEN BY: Donna Powers, Wayne Powers
DIRECTED BY: Wayne Powers
AIR DATE: June 1, 2003
1.03 The Art of Loss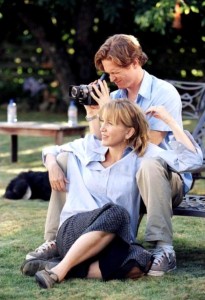 SYNOPSIS:
Mark continues his relationship with Danni. Flashbacks recall their difficulty conceiving a second child as well as Lorna's miscarriage. Mark sees a psychic as research for a script.
WRITTEN BY: Donna Powers, Wayne Powers
DIRECTED BY: Henry Bromell
AIR DATE: June 9, 2003
1.04 Losing My Religion
SYNOPSIS:
Mark learns of his Jewish heritage. Stephen shows up drunk and throws a plant through Mark and Lorna's window. Mark confronts both Stephen and Lorna about the mysterious Teddy, but gets a straight answer from neither. Mark flashbacks to the first time he was almost unfaithful to Lorna (with a prostitute) and sleeps with Danni for the second time.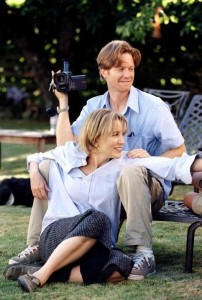 WRITTEN BY: Donna Powers, Wayne Powers
DIRECTED BY: Tim Hunter
AIR DATE: June 16, 2003
1.05 Follow the Rat
SYNOPSIS:
Mark has a recurring dream about a rat. Danni starts seeing a divorce lawyer. Lorna's sleeping pill causes her to begin sleepwalking, which leads to Mark losing a lot of sleep. Mark learns the truth about something in his past and breaks up with Danni… but maybe not for good.
WRITTEN BY: Donna Powers, Wayne Powers
DIRECTED BY: Roger Kumble
AIR DATE: June 23, 2003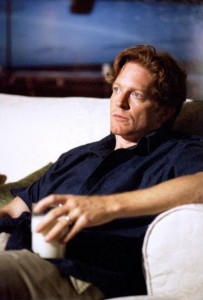 1.06 Put Me in Order
SYNOPSIS:
Mark and Lorna celebrate their seventeenth anniversary. Mark discovers who Teddy is from an unlikely source… The truth about Lorna's addictions comes out. Danni makes a startling revelation to Mark, forcing him to make a decision about where his life is headed.
WRITTEN BY: Donna Powers, Wayne Powers
DIRECTED BY: Wayne Powers
AIR DATE: June 30, 2003
INTERVIEW (Hollywood.com) :
Hollywood.com: What is your take on what the show is about?
I'd say it's a tough but funny and oddly imaginative show rooted in relationships… about successful people who want to stay in love, but don't really know how to do it.

What inspires you about the character of Mark?
I like that this guy wants to do what's right, but he's kind of a jerk at times. He does things that are, shall we say, a little dubious–and doesn't apologize for his behavior, which is questionable at best. He's visibly flawed and kind of sad, but has a sense of humor about what he's going through. And he's a redhead, which is nice.

What is the one thing about a script that has to grab you when you read it?
If I actually want to finish reading it, and can't put it down–that's usually a good sign. Of course, that's no guarantee that it'll be any good, but it's a good first step.

How difficult is it being in just about every scene?
It's kind of tough. I now have a much deeper respect for people who do plays for two years, or long-running television shows. It's such hard work, and your life kind of gets put to the side for a while. It's hard not to get consumed with the role and the stories, and I don't know that that's such a healthy thing.

How much of an "insider" view of Hollywood will we get with this show? Is it pretty close to real life in showbiz?
I do think this is a pretty accurate inside view of how kooky the film business can be, yes. It's filled with all kinds of talented beautiful rich people who don't necessarily do the right thing, but at the very least they dress well.
BEHIND-THE-SCENES CLIP:
Back to TELEVISION