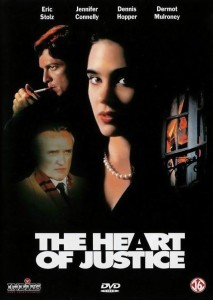 The Heart of Justice is a TV film written by Keith Reddin and directed by Bruno Barreto. It premiered in October 1992 in the UK and in February 1993 in the United States (on TNT).
The film was only released on VHS in the United States, but is available on DVD in several other countries.
SYNOPSIS:
David Leader investigates a seemingly senseless murder, and in the course of it is drawn into the labyrinth of a sinisterly unique wealthy family. The family seems to revolve around its own beautiful and mysterious daughter, Emma Burgess, and soon Leader is deeply within her orbit as well.
CAST:
Eric Stoltz (David Leader), Dennis Hopper (Austin Blair), Vincent Price (Reggie Shaw), Paul Teschke (Alex), Arthur Eckdahl (George), Jennifer Connelly (Emma Burgess), Felicity Huffman (Annie), Dermot Mulroney (Elliot Burgess), Keith Reddin (Simon), Harris Yulin (Keneally), Ross Leon (Officer McCrane), William H. Macy (Booth), Bradford Dillman (Mr. Burgess)
VHS ON AMAZON: The Heart of Justice
DVD ON AMAZON: The Heart of Justice [ NON-USA FORMAT, PAL, Reg.2 Import – Netherlands ], THE HEART OF JUSTICE [PAL/REGION 4 DVD. Import-Australia]
CLIP:
Back to FILMS