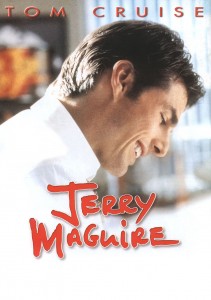 Jerry Maguire is a romantic comedy/drama written and directed by Cameron Crowe.
Tom Cruise plays Jerry Maguire, a sports agent who grows a conscience, gets himself fired and decides to start his own agency. Renée Zellweger plays the only co-worker who follows him, and Cuba Gooding Jr. is the football star who remains his only client. Eric only shows up briefly in a party scene early on in the movie. He plays Ethan Vahlere, the grown up version of the character he played in Crowe's 1989 film Say Anything…
Jerry Maguire was released in theatres in December 1996 and landed on DVD in June 1997.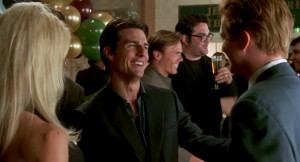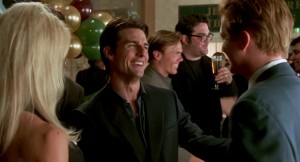 The film was nominated for five Oscars (including Best Picture, Best Screenplay and Best Actor) and won one, for Best Supporting Actor (Cuba Gooding, Jr.) Tom Cruise won the Golden Globe for Best Actor. Both Cruise and Gooding, Jr. won Satellite Awards and Gooding Jr. also nabbed a SAG Award.
SYNOPSIS:
Jerry Maguire used to be a typical sports agent: willing to do just about anything he could to get the biggest possible contracts for his clients, plus a nice commission for himself.

Then, one day, he suddenly has second thoughts about what he's really doing. When he voices these doubts, he ends up losing his job and all of his clients, save Rod Tidwell, an egomaniacal football player. Can Jerry resurrect his career while still staying true to himself?
CAST:
Tom Cruise, Renée Zellweger, Jonathan Lipnicki, Bonnie Hunt, Cuba Gooding Jr, Jay Mohr, Regina King, Kelly Preston, Jerry O'Connell, Eric Stoltz
DVD ON AMAZON: Jerry Maguire, Jerry Maguire (Special Edition)
BLU-RAY ON AMAZON: Jerry Maguire (+ BD Live) [Blu-ray]
TRAILER:
Back to FILMS