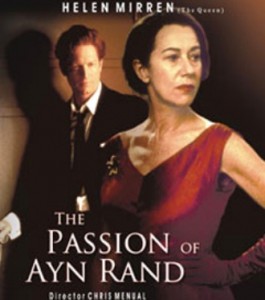 The Passion of Ayn Rand is a drama written by Mary Gallagher and Howard Korder and directed by Christopher Menaul. It is based on a book of the same name by Barbara Branden, played in the film by Julie Delpy.
The film premiered at the Sundance Film Festival in January 1999 and had its TV premiere later that year, in May.
Helen Mirren won an Emmy Award for Outstanding Lead Actress in a Miniseries or a Movie and Peter Fonda, who was also nominated for an Emmy, won a Golden Globe for best supporting actor.
The Passion of Ayn Rand was released on DVD in February 2001.
SYNOPSIS: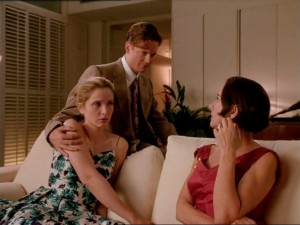 The novelist Ayn Rand engaged in an affair with a psychologist 25 years her junior by the name of Nathaniel Branden.
Branden built up an institute to spread Rand's ideas, but the two eventually had a falling out. This is the story of the affair, based on the book by Branden's wife, Barbara.
CAST:
Eric Stoltz, Helen Mirren, Julie Delpy, Peter Fonda, Don McKellar, Sybil Temtchine, Tom McCamus
DVD ON AMAZON: The Passion of Ayn Rand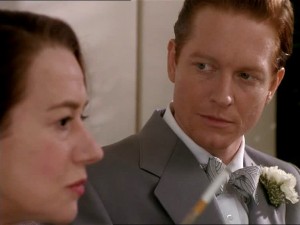 INTERVIEWS:
Newsday, May 1999:
Rand would again and again mold her world into one that suited her notions – regardless of the human consequences. That's what drew Eric Stoltz, who specializes in smart and quirky movies, to the role of her eager young admirer. "These people are clearly brilliant and intelligent people – with furious minds – who somehow end up in impossible, brutalizing, foolish situations. Like we all do," Stoltz said over a catered lunch during a nighttime filming break.

Yet, "Passion" never neglects the deeper philosophical yearnings that originally brought them together. Stoltz said, "To hear these people who so valued the mind and thought and thinking is wonderful in this world of fast cutting and stimulants, instant gratification and disposable living." (…)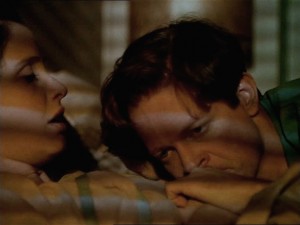 Costar Eric Stoltz read "The Fountainhead" in college: "I think it had a profound influence on me at a time in my life where I needed to hear what she was saying: the rights of the individual, being true to yourself."
Billboard, April 2001:
What attracted you to this film?
It was one of the more interesting scripts that I've read, and it contained a rather shocking approach to an adulterous affair in that all the parties involved got permission from their mates. Also, Helen Mirren was doing it, and I liked the director. So there were many elements.

My favorite scenes in the movie are yours with Helen.
She was the best. I found it very interesting and difficult to keep up with her, frankly. She's better and smarter and more attractive. It's like all of a sudden you're playing tennis with Andre Agassi. You have to fight to keep up. You can learn within that, but it certainly makes your heart race.

Was working in such a claustrophobic '50s setting a challenge, too?
It certainly seemed a much more repressed world. These characters had extraordinary courage in trying to break through that repression and be honest about their feelings of lust and love. They were breaking through those boundaries, which is what made them interesting, dangerous, and miserable.
The Pittsburgh Channel, 2001:
"This is a special project not just because of the political content, but because of script and (star) Helen Mirren – she's one of the best actresses living today," Stoltz told me. "I just sort of threw myself at her feet and she very graciously let me. She was just a joy to work with. It was just a wonderful project all the way through." (…)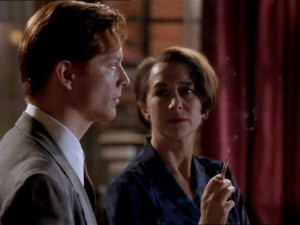 "I guess it could be frightening, but I found it very American in that one of the principles of objectivism is that you do what makes you happy," Stoltz said. "You are not beholden to society, community or your family – you come first. It embraces selfishness. To me, that's a very American quality."
As for his own experiences, Stoltz's first exposure to Rand came just after high school. "I had read Ayn Rand's work in college, which I think is a perfect time to read her because you're setting off on your own, breaking away from your parents and creating your own world. You need to be sort of selfish and thoughtless," he mused.
Related clips on YouTube: interviews with Barbara Branden & Nathaniel Branden
Back to FILMS