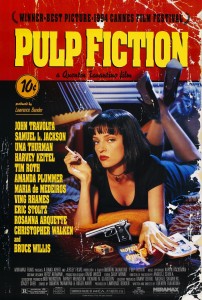 Pulp Fiction is a 1994 film directed by Quentin Tarantino from a script he wrote with Roger Avary. It premiered at the 1994 Cannes Film Festival, where it won the Palme d'Or for best film.
The film opened wide in the U.S. in October 1994. Next year, it was nominated for seven Oscars, including Best Picture, and won the one for Best Original Screenplay.
Other awards include BAFTAs for Best Screenplay (Original) and Best Actor in a Supporting Role (Samuel L. Jackson), National Society of Film Critics Awards for Best Film, Best Director and Best Screenplay, the Golden Globe for Best Screenplay – Motion Picture, the Saturn Award for Best Action/Adventure/Thriller Film, and Independent Spirit Awards for Best Feature, Best Director, Best Screenplay and Best Male Lead (Samuel L. Jackson). Eric was nominated for a Spirit Award for Best Supporting Male.
Pulp Fiction has had several DVD releases over the years and came out on Blu-ray in Europe in 2009. The U.S. Blu-ray is scheduled for release on October 4th, 2011.
SYNOPSIS:
Jules Winnfield and Vincent Vega are two hitmen who are out to retrieve a suitcase stolen from their employer, mob boss Marsellus Wallace. Wallace has also asked Vincent to take his wife Mia out a few days later when Wallace himself will be out of town. Butch Coolidge is an aging boxer who is paid by Wallace to lose his next fight. The lives of these seemingly unrelated people are woven together comprising of a series of funny, bizarre and uncalled-for incidents.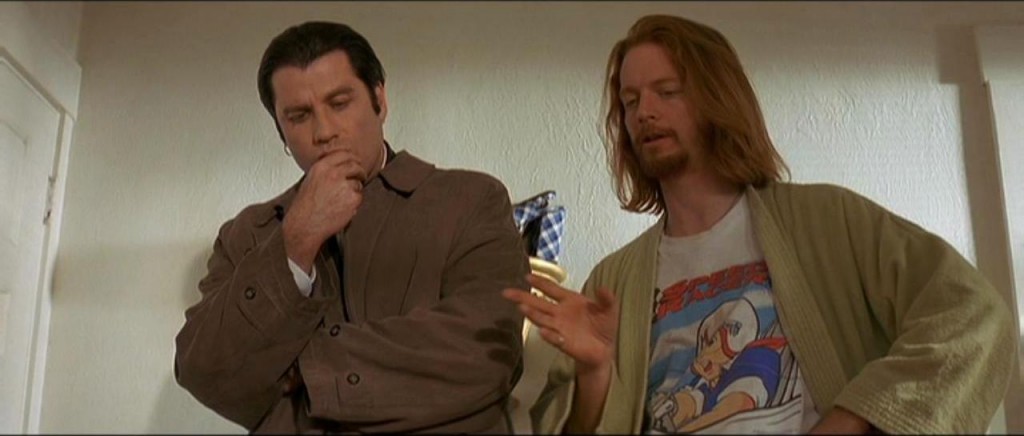 CAST:
Samuel L. Jackson, John Travolta, Bruce Willis, Uma Thurman, Tim Roth, Amanda Plummer, Ving Rhames, Eric Stoltz, Maria de Medeiros, Rosanna Arquette, Peter Greene, Frank Whaley, Phil LaMarr, Duane Whitaker, Paul Calderon, Angela Jones, Christopher Walken, Steve Buscemi, Harvey Keitel, Quentin Tarantino
DVD ON AMAZON: Pulp Fiction, Pulp Fiction (Two-Disc Collector's Edition), Pulp Fiction
BLU-RAY ON AMAZON: Pulp Fiction [Blu-ray – Region 1],
Pulp Fiction (1994) (Blu-Ray) [Blu-ray – Region 2]
BLU-RAY EXTRAS (Region 1):
Retrospective Cast Interviews – NEW
Critics Corner: Then and Now – NEW
"Pulp Fiction: The Facts" featurette
Deleted Scenes
Behind the Scenes Montages
Production Design featurette
Siskel and Ebert "At the Movies" – The Tarantino Generation
Independent Spirit Awards
Cannes Film Festival – Palm d'Or Acceptance Speech
Charlie Rose Show – Interview with Quentin Tarantino
Theatrical Trailers and TV Spots
Stills Gallery
DVD REVIEWS (Collectors Edition):
While most of the supplements are saved for Disc Two, the first coaster has a promo for the Jackie Brown DVD and an ad for the Pulp Fiction soundtrack. The only other extras are chapters for the songs in the film (though not presented on isolated tracks), and a Trivia Track that plays as subtitles throughout the film. There is no audio commentary by QT or anyone else associated with the film. Though Tarantino is an admitted Laserdisc junkie, he's yet to do a commentary for a film he's directed, and perhaps he never will — though he did turn up on the special edition commentaries for both From Dusk 'til Dawn and Switchblade Sisters. The Trivia Track is as good as we get until Tarantino decides he wants to do a commentary himself. (…)

The Second Disc

The newest, hippest, latest addition is a documentary entitled Pulp Facts (30:29), which culls some new — but mostly old — interviews from the cast and crew on the making and construction of Pulp Fiction and its popularity. Sure, it's mostly filler, but it's got some nuggets.

Next up are the five Deleted and Alternate Scenes (24:15), introduced by Tarantino (and which includes four scenes from the Criterion Laserdisc and the Special Edition VHS). Those looking for the fabled footage of Marvin getting shot in the neck first, or Jimmy taking pictures of Winston with Jules and Vincent, won't find them here, but otherwise it's a good collection. It starts with an Intro (1:40) where QT talks about how other directors include cut scenes from films on their Laserdiscs (way to update it, folks!) Then comes Drug Deal Monologue (1:54), which has a Tarantino intro (:39) and features Lance (Eric Stoltz) rambling on. Next up is Mia Interviews Vincent (2:45), which puts into context the later line "An Elvis man like you should like it" and has a long (2:39) QT introduction where he talks about blowing video up to film. Next up is The Esmeralda Cab Scene (4:57), in which Butch's cab ride plays as a stand-alone scene with a bit more dialogue, as introduced by Tarantino (:57). In the intro (1:44) Tarantino explains that one of the major reasons he cut Monster Joe's Truck and Tow (1:57) is that he cast Dick Miller, and he was just too recognizable. The last cut scene, an extended version of the Jack Rabbit Slim's scene (5:10), adds more dialogue about Mia's friends in Amsterdam and is the only "new" cut scene (which is probably why it doesn't have an introduction).

Next up are two behind-the-scenes spots, one of Jack Rabbit Slim's (4:44) and the second called Butch Hits Marsellus (6:02), where we can see Tarantino directing and dancing along with John and Uma. Production Design (6:21) features an interview with David Wasco and his wife/set decorator Sandy Reynolds-Wasco. They talk about the look of the film, and how Jack Rabbit Slim's was designed to be a "Theme restaurant on acid."

Because Pulp Fiction made such a cinematic impression, Siskel and Ebert dedicated a show to QT, and it's presented here as Siskel and Ebert at the Movies: The Tarantino Generation, where the critics discuss how they weren't fond of his first film, but here compare him to David Mamet and Orson Welles. Also in the "smoke being blown up QT's ass" section would be the next two spots, Independent Spirit Awards (11:27) and Cannes Film Festival Acceptance Speech (5:19). The first features Michael Moore interviewing Tarantino, Roger Avery, Samuel Jackson, and producer Lawrence Bender in an uncut form, and the second shows Tarantino hoisting his middle finger at a pissed-off Frenchwoman who was displeased with his victory.

Those looking for a little more depth should consult the Charlie Rose interview (55:24), which has Tarantino and Rose covering several topics and his plans for the future (from 1994). It's a solid interview, also included on the Criterion Laserdisc.

Next up would be a collection of Trailers (11:04) for the United States, the UK, France, Germany and Japan, and 14 TV spots (5:14). A large Still Gallery is also included, with sections on "Pulp Fiction Posters," "Behind the Scenes," "Special Photo Shoot," "Production Stills," "Academy Award Campaign and Trade Ads," "Location Scouting and Set Construction," "Production Design and Logos," and "Props and Memorabilia." Finally there's a collection of eight reviews and 12 articles about the film. And frankly, I don't think they could have included much more. — The DVD Journal
Disc Two is also packed with goodies. To start with, you get a very in-depth documentary recently produced for this DVD. Titled Pulp Fiction: The Facts, it's just that. Through interviews and behind-the-scenes footage we learn about the history, the shooting and the legacy of a film many of us have loved since the first minute we set eyes on it. Next up are five extended/deleted scenes. These are the same deleted scenes featured in the special edition VHS (as well as additions from the Canadian DVD/Criterion laserdisc). The whole thing is introduced by Tarantino in the same style as his Rolling Thunder intros. Also on tap are handfuls and reams of other material that's all fun to peruse.

There are two behind-the-scenes montages for scenes from the film. We see Bruce Willis and team shooting the car hitting Marsellus, and Willis makes a prediction (pre-Blair Witch) that someone will make a blockbuster motion picture with a video camera. And Tarantino shoots the dance sequence at Jack Rabbit Slims, calling out dance cues and doing a jig himself. In addition, a production design featurette focuses mainly on the Jack Rabbit Slim, the Siskel and Ebert At the Movies: The Tarantino Generation episode looks at the film as being a huge influence, some really rough interview footage with Michael Moore from the Independent Spirit Awards is included, the whole Cannes Film Festival: Palme d'Or acceptance speech is on hand, a nicely done Charlie Rose Show interview with Quentin Tarantino is captured, and you can see all the different ways the film was sold around the world by watching a handful of international theatrical trailers and TV spots.

We shouldn't forget the seeming millions of photos, poster art and concept drawings in the eight (yes, still galleries. And, last but not least, for those wanting to read all about the film and gain some prospective eight years later, there are a nice selection of esteemed film reviews and articles about the movie, it's cast and Tarantino.

That's a lot of stuff. A lot of stuff. And it's all good, and it all serves the film. I can't think of any one thing this disc is missing and that's a great thing. This is a DVD set I fully endorse all of you to go out and purchase. And if you have the original edition on DVD, you'll find a rebate coupon in this new edition for $5 off the purchase price to upgrade. It's a classic film, it's well made and it's as entertaining as anything released before or since. I'm a huge fan of Pulp Fiction, and this DVD makes me an even bigger fan. — DigitalBits.com
DELETED SCENE:
CLIPS:
TRAILER:
PULP FICTION: THE FACTS (DVD documentary):
Back to FILMS