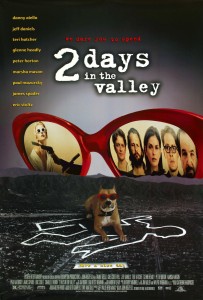 2 Days in the Valley is a drama/thriller/comedy written and directed by John Herzfeld. It follows a group of people whose storylines are drawn together by a murder.
Eric plays Wes Taylor, a vice cop who wants to work homicide. Jeff Daniels plays his partner Alvin.
The film was released in theatres in September 1996 and on DVD in 1997.
SYNOPSIS:
John Herzfeld deftly welds together a multitude of subplots– a loser hitman and a cool assassin involved in an insurance scam; a washed-up director, turned suicidal, if only he had someone to care for his beloved dog; a snooty art dealer, wracked by kidney stones, cared for by his devoted assistant; a grungy deranged vice cop, now partnered with a fresh-faced rookie; and two beautiful and jealous women entangled in their deadly scheme–into a spoof of the crime thriller genre.
CAST:
Danny Aiello, Greg Cruttwell, Jeff Daniels, Teri Hatcher, Glenne Headly, Peter Horton, Marsha Mason, Paul Mazurksy, James Spader, Eric Stoltz, Charlize Theron, Keith Carradine, Louise Fletcher, Austin Pendleton
DVD ON AMAZON: 2 Days in the Valley (1997), 2 Days in the Valley (2007)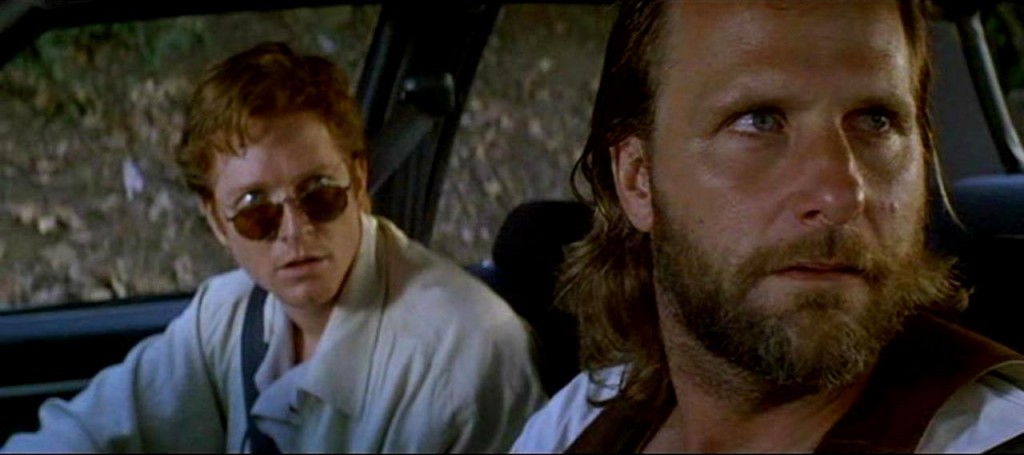 DVD REVIEW:
The Video:
The anamorphic widescreen treatment here is long-overdue, but otherwise its quality, presented in 2.35:1 aspect ratio, is neither spectacular nor deficient. The picture is clear, albeit a little soft in a few spots.

The Audio:
Aside from some climactic gunshots that get surround-sound action, the Dolby Digital 5.1 mix is modest. It doesn't matter much; this is a dialogue-driven film. Audio tracks are available in English, Spanish and French, with optional subtitles in English, Spanish, French and Portuguese.

Extras:
None. What gives?

Final Thoughts:
2 Days in the Valley is smart and solid filmmaking, a quasi-noir thriller-comedy with the good sense not to take itself too seriously. Unfairly dissed by some critics in the mid-Nineties as a Tarantino wannabe, the movie deserves more respect than that. While this latest DVD version sports better picture quality than previous incarnations, its lack of bonus material is mighty disappointing. No director commentary? No retrospective? Hell, at the very least we could've handled a Charlize Theron-Teri Hatcher grudge match… — DVDTalk.com
TRAILER: Video Detective
Back to FILMS