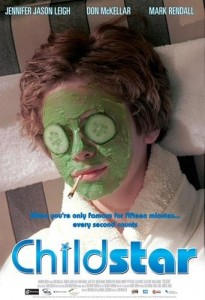 Childstar is a comedy written by Michael Goldbach and Don McKellar and directed by McKellar, who also stars in it. It premiered at the Toronto International Film Festival in September 2004 and was released on DVD in region 1 in September 2004. It won the DGC Team Award for Outstanding Team Achievement in a Feature Film from the Directors Guild of Canada.
SYNOPSIS:
Taylor Brandon Burns, a conflicted twelve-year-old TV star from the U.S., runs away from the set – and his problems – while shooting a big-budget film in Canada. His reluctant limo-driver, Rick Schiller, a down-on-his-luck indie filmmaker, is enlisted to find Taylor before the childstar destroys himself.
CAST: Mark Rendall (Taylor Brandon Burns), Don McKellar (Rick), Jennifer Jason Leigh (Suzanne), Peter Paige (Tim), Gil Bellows (Isaac), Alan Thicke (J.R.), Brendan Fehr (Chip Metzger), Michael Murphy (Reed Harrison), Eric Stoltz (Fresno Burnbaum)
Eric appears in a couple of scenes as the kid's dad.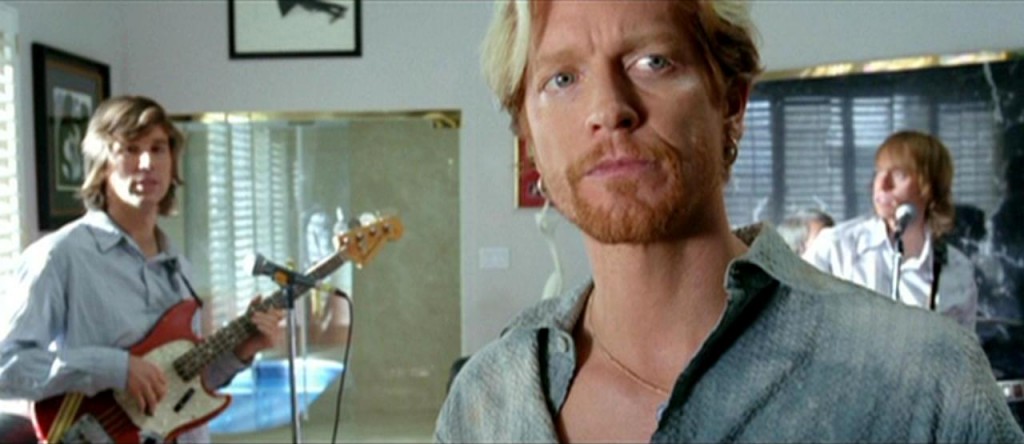 Background info, from an interview with Don McKellar:
Where did the idea for Childstar come from?

I was at the Oscar[R] party for The Red Violin [2000], and we went to the Dreamworks party afterwards. I found myself sitting at the bar talking to Haley Joel Osment. We were talking about the business and about the Oscars[R], which were the longest in history. It was late at night, and what was interesting about this was that after about 10 minutes into the conversation I thought, "Oh my God, I'm talking to an 11-year-old." It was a Hollywood party and it didn't occur to me that any children were present. Instead, I was talking to a celebrity. He seemed to perfectly encapsulate American stardom. This was just after The Sixth Sense and before A.I. He was an example of something, but I didn't know what. He was preternaturally mature, extremely young but unnatural. There was something spooky about it, if you thought about it. He sort of summed up in an instant all my feelings about Hollywood, all my Hollywood experiences. I carried that away with me. At the time I was working on Blindness, which was a heavy slog, and I was obsessed by it. Then this idea formulated in my head about a child star. It was rumbling around in my head and I was entertaining it as a lighter diversion, but the more I thought about it the more I became intrigued. I told my idea to Mike Goldbach, who, at the time, was a writer up at the Canadian Film Centre. (…)

Who do you have in the cast?

We have Jennifer Jason Leigh, who plays the mother. I worked with her before on eXistenZ, and she said she wanted to work with me again. So I took her at her word and called her up for a cameo in the second season of Twitch City. She also agreed to do Childstar. We have Dave Foley as the film's producer who is saddled with this ridiculous production but would rather be making Truffaut films. Eric Stoltz is the father. I cast him because he said in an interview with the National Post that he wanted to be in one of my films. The Post used it as a pull quote: "Stoltz wants to act in a McKellar film." So I figured, why not? We asked his agent and he agreed. Michael Murphy plays the actor playing the American president. Brendan Fehr plays an older child star who is the Secretary of State in the film. He's the cautionary tale of the grown-up child star who has been in and out of rehab.
DVD ON AMAZON: Childstar
DVD REVIEW:
Audio and video are reasonable, considering the film must have had a modest budget to work with. Some of the CGI effects (yes) are pretty cheesy, but this is no doubt intentional…it works with the joke. The color palate is reasonable enough, with ghostly blues and greys but vibrant greens and reds, and black levels are acceptable. Get too close to the film and the fidelity of the transfer artifacts somewhat but, overall, it's a decent presentation. The widescreen format definitely shows off McKellar's clever and amusing framing techniques, which often form the basis for sight gags.

Both a surround and a stereo presentation are available, but there isn't too much difference between the two, as the rear channels rarely get to stretch their legs beyond some atmospheric environmental noises. Bass response on both tracks is fairly level, a bit on the low side. No subtitles.

The single "advertised" feature, a 23-minute "making of" documentary looks like it was made on a home computer, and based on the quality of the transfer, probably was. Still, McKellar is a decent interview subject and makes himself entertaining when on camera, if nothing else. He describes Childstar as a "metaphor for how hard it is to make a movie," which is a pretty decent summation. As these behind-the-scene things go, it is decent.

I say "advertised" feature, because the packing completely fails to mention the DVD's best feature, a full-length commentary track with McKellar and his composer and editor. It is quite excellent, full of light laughs, likeable and polite Canadian dialogue, grievances about finding secure funding for Canadian cinema, and some technical details. Why the packaging failed to mention this excellent feature, I'll never know. — DVD Verdict.com
TRAILER:
Back to FILMS