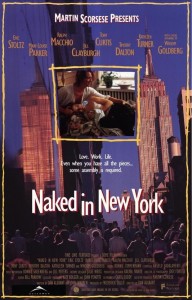 Naked in New York is a drama directed by Daniel Algrant from a script he wrote with John Warren. The film was released in theatres in the U.S. in April 1994.
It came out on DVD in September 2004.
SYNOPSIS:
The film is narrated in flashback by Jake (Stoltz), a young aspiring playwright, culminating in the production of one of his plays off-Broadway by agent Carl (Curtis).

The play is a flop, at least in part because the lead parts are given to actors (Turner and Chris Noth) who are "not right" for the roles.

Along the journey, Jake reviews his relationships with girlfriend Joanne (Parker), best friend Chris (Macchio), his mother (Clayburgh), and his mostly absentee father (Paul Guilfoyle).

The film ends with Jake and Joanne going their separate ways, mostly because of competing career goals, and Jake hoping to write more plays with greater success.
CAST:
Eric Stoltz, Mary-Louise Parker, Ralph Macchio, Jill Clayburgh, Tony Curtis, Timothy Dalton, Lynne Thigpen, Kathleen Turner, Roscoe Lee Browne, Whoopi Goldberg, Paul Guilfoyle, Calista Flockhart, Arabella Field, Lisa Gay Hamilton
INTERVIEWS:
Question: What was the point of "Naked in New York," how did you get Katherine Turner to appear, and why the gratuitous frontal scene at the end?

EStoltz: Well, the point of any movie is to tell a story. Some people get the story of "Naked In New York" and some people are clearly baffled. I had nothing to do with getting Kathleen Turner, the question is more appropriate to her or the director, and the nude scene had a great deal to do with the title of the film which was "Naked in New York," as opposed to "Clothed in New York," and had everything to do with a young man finally facing up to adulthood, which was represented in a dream, in a rather Jungian way, that is probably too complex for me to try to explain to someone who feels that it was simply gratuitous. – AOL live chat, 1996
DVD ON AMAZON: Naked in New York
TRAILER:
Back to FILMS