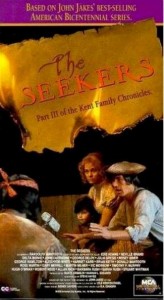 The Seekers (or: The Seekers: Part 3 of the Kent Family Chronicles) is a TV film based on John Jakes' third novel in The Kent Family Chronicles series. Steve Hayes wrote the script and Sidney Hayers directed the film.
The Seekers premiered in December 1979.
SYNOPSIS:
The sons and grandchildren of Philip Kent make a life for themselves in America.
CAST:
Randolph Mantooth (Abraham Kent), Edie Adams (Flora Cato), Neville Brand (Capt. Isaac Drew), Delta Burke (Elizabeth Fletcher Kent), John Carradine (Avery Mills), George Hamilton (Lt. Hamilton Stovall), Julie Gregg (Edna Clapper), Alex Hyde-White (Oliver Prouty), Harriet Karr (Harriet Kent), Brian Keith (Elijah Weatherby), Don Mantooth (Plenty Coup), Ed Harris (Lt. William Clark), Vic Morrow (Leland Pell), Eric Stoltz (First Boy), John Jakes (Alex Elphinstone)
PHOTOS:
TRAILER:
Back to FILMS