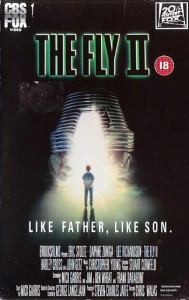 The Fly II is the sequel to David Cronenberg's 1986 film The Fly. It was directed by Chris Walas from a script by Frank Darabont, Mick Garris and Jim Wheat.
The film was released in theatres in February 1989. The Special Collector's Edition DVD was released in October 2005.
SYNOPSIS:
Martin Brundle might seem normal, but as the son of an ill-fated scientist whose genes were altered in a bizarre experiment, he's about to suffer the most horrifying transformation ever experienced by a human being.
CAST:
Eric Stoltz (Martin Brundle), Lee Richardson (Anton Bartok), Daphne Zuniga (Beth Logan), John Getz (Stathis Borans), Frank C. Turner (Shepard), Ann Marie Lee (Dr. Jainway), Gary Chalk (Scorby)
DVD ON AMAZON: The Fly II (Collector's Edition), The Fly Collector Set (The Fly / The Fly II)
DVD REVIEW:
On disc one, there's a commentary by director Chris Walas and historian/archivist Bob Burns. Thank goodness for Bob Burns, as he is the saving grace on this track. Walas is actually quite interesting on the documentaries, but for some reason, on the commentary, it seems as if he's at a loss for words, so he points out the most mundane details. Even with Burns around, the track starts out at a plodding pace, with the two of them discussing points about the film that were said more concisely in the accompanying documentaries. But eventually, the conversation moves away from this particular film, and moves toward film in general, especially the kinds of films that inspired The Fly II. From there it really picks up, with Walas and Burns cracking jokes and being both funny and informative.

Also on the first disc are a deleted scene and an alternate ending. The deleted scene is humorous, but wouldn't have fit with the mood at that point in the film. And the alternate ending is boring, pointless, and nowhere near as good as the current ending. This disc also has trailers. Bizarrely, no trailers for The Fly II appear. Instead, we get trailers for The Fly (1958), The Fly (1986), Return of the Fly, Alien, and The Omen. There's also the "If you liked this movie, you may want to try…" section, which has the covers and short synopses for all the Alien and Predator movies.

Disc two has the bulk of the special features. The biggest of which is the new documentary, "Transformations: Looking Back At The Fly II." This mostly consists of interviews with Chris Walas, although a few other contributors pop up. Unlike the beginning of the commentary, Walas is informative and interesting throughout. It's not as thorough as the documentary for the first film, but The Fly II isn't as accomplished or important, so it doesn't feel as if we're being shortchanged. A second documentary, "'The Fly' Papers: The Buzz On Hollywood's Biggest Insect" is an hour-long documentary on all the films that originally aired on AMC. I was pleasantly surprised to find that Leonard Nimoy does the narration. The documentary spends almost equal time on all the films. And to my surprise, I discovered there were actually two sequels to the original. The Curse of The Fly, which appeared in the '60s, had almost nothing to do with the first two films, but had some bizarre imagery nonetheless.

There are three featurettes. The first is the 1989 electronic press kit. Like the EPK on The Fly, for some reason the narrator was mixed so low as to be inaudible. Also, like the EPK on The Fly, this EPK doesn't do anything that the other features don't do better. The second featurette is the CWI video production journal. This consists of test footage of the various effects, and is easily the most interesting of the featurettes. The third is called "Composer's Master Class: Christopher Young." Here Young speaks about working with Walas (Walas told him to forget Shore's score entirely, and make something that was his own), and how the music evolved. It's all kind of funny, since most of the music is nothing but a weak rewrite of the Hellraiser score. I almost wish Young would have just said, "I needed a paycheck and so I rearranged some stuff I had already made."

The disc has three storyboard-to-film comparisons. I never found these comparisons to be very interesting, and the ones presented here are no exception. However, these come with optional commentary by Chris Walas, which make the proceedings a touch more interesting. After these, we finally get a teaser and full trailer for the movie itself, although you'd think they would have included these on the first disc.

To round it out, we get still picture galleries. Gallery one is production photos, gallery two is models and casts for the effects, and gallery three is storyboards. Of the three, the second is by far the most interesting, as you get to see a lot of those cool effects close-up, where you can study them. – Horrortalk.com
PHOTOS:
TRAILER:
Back to FILMS