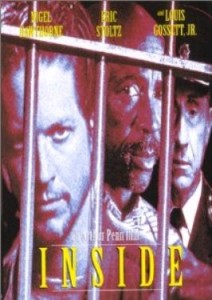 Inside is a prison drama directed by Arthur Penn from a script by Bima Stagg, who won the Literary Award for it at the 1997 PEN Center USA West Literary Awards. It was the last film Penn directed.
Inside was filmed in Johannesburg. It was first broadcast in August 1996 and then screened at the Toronto Film Festival in September.
It got a theatrical release in France in April 1997 and was released on DVD in December 2000.
SYNOPSIS:
Marty Strydom, an idealistic university professor from a prominent South African family, is accused of conspiring to subvert the government after attending an Amnesty International concert in Zimbabwe. The job of making him confess falls to Colonel Kruger of the Secret Police.

Ten years later, after power in South Africa has passed to the black majority, there is a new investigation. This time it is Colonel Kruger being questioned by a black investigator. Most of the files documenting the abuse of the Secret Police's victims were destroyed, but Strydom's file is one that remains; and it could incriminate the colonel if the questioner handles it shrewdly.
CAST:
Eric Stoltz, Nigel Hawthorne, Louis Gossett Jr., Ian Roberts, Janine Eser, Louis Van Niekerk
DVD ON AMAZON: Inside
PHOTOS:
TRAILER:
Back to FILMS