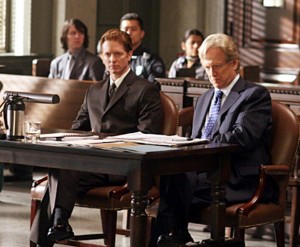 Eric appeared in three episodes of Close to Home in 2007, in the show's second (and last) season. He played Det. Chris Veeder, a dirty cop.
Bruce Davison played his lawyer and Joanna Going guest starred as his wife.
EPISODES:
2.20 Drink the Cup
WRITTEN BY: Tom Smuts, Jim Leonard (creator)
DIRECTED BY: Christopher Leitch
AIR DATE: April 27, 2007
While prosecuting a drug dealer who's accused of murdering a police officer, Annabeth (Jennifer Finnigan) uncovers a ring of corrupt cops. Meanwhile, Conlon (David James Elliott) hires a campaign manager (Jonathan Silverman) to help with his bid for attorney general.
2.21 Fall from Grace
WRITTEN BY: Antoinette Stella
DIRECTED BY: Jeffrey G. Hunt
AIR DATE: May 4, 2007
Annabeth prosecutes Veeder with another murder, and increases the risk to her, the office, and the evidence. The case against the man is harmed when a key witness is found dead.
2.22 Eminent Domain
WRITTEN BY: Eric Overmyer (teleplay), Leo Geter (story), Tom Smuts (story), Jim Leonard (creator)
DIRECTED BY: Matt Earl Beesley
AIR DATE: May 11, 2007
The battle against police corruption by the DA's office turns deadly when one of its own is murdered.
PHOTOS:
Back to TELEVISION