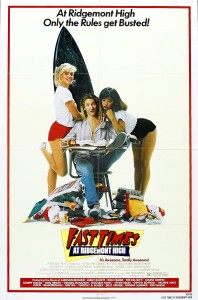 Fast Times at Ridgemont High is a comedy written by Cameron Crowe, who adapted it from his own book, and directed by Amy Heckerling. The film is set at the fictional Ridgemont High School and follows several characters over the course of one academic year.
Fast Times opened in a limited release in August 1982 and went on to become the 29th US release in 1982. Cameron Crowe was nominated for a WGA Award for Best Comedy Adapted from Another Medium. In June 2000, the American Film Institute ranked the film #87 on the AFI's 100 Years… 100 Laughs list.
In 2005, it was selected for preservation in the United States National Film Registry by the Library of Congress as being "culturally, historically, or aesthetically significant".
The film was first released on DVD as part of the Campus Comedy Classics collection in December 1999 and has had several re-releases and special editions since. The Blu-ray is available for pre-ordering on Amazon and will be released on August 9, 2011.
SYNOPSIS: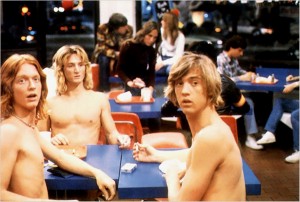 The center of this ensemble film is Jennifer Jason Leigh as Stacy Hamilton. She is a young, innocent high-school student who, as the film opens, is asking for advice from her friend, the sexually outspoken Linda Barrett (Phoebe Cates).
Stacy takes a liking to nebbish Mark Ratner (Brian Backer), but he is too afraid to make a move even after Stacy all but throws herself at him. She eventually hooks up with Mark's more confident best friend, Mike Damone (Robert Romanus). When not concerning itself with these four characters, the film spends time with stoned surfer dude Jeff Spicoli (Sean Penn) and his ongoing feud with history teacher Mr. Hand (Ray Walston).
CAST: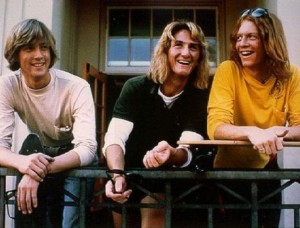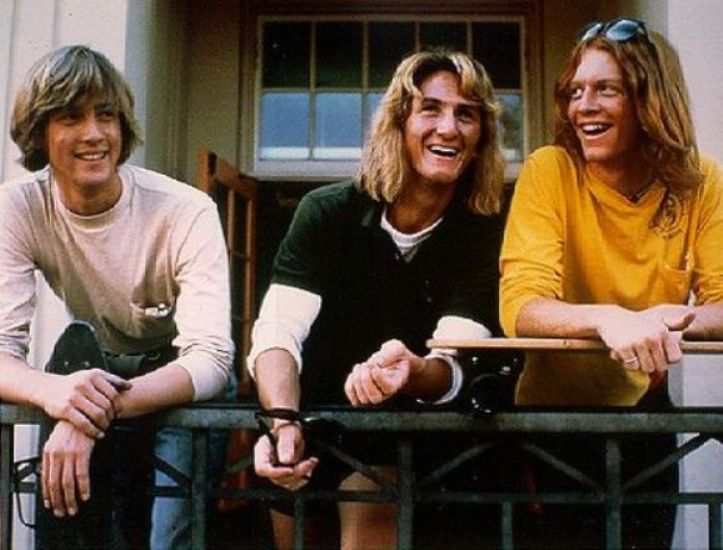 Jennifer Jason Leigh (Stacy Hamilton), Phoebe Cates (Linda Barrett), Sean Penn (Jeff Spicoli), Judge Reinhold (Brad Hamilton), Ray Walston (Mr. Hand), Vincent Schiavelli (Mr. Vargas), Forest Whitaker (Charler Jefferson), Amanda Wyss (Lisa), Robert Romanus (Mike Damone), Brian Backer (Mark 'Rat' Ratner), D.W. Brown (Ron Johnson), Kelli Maroney (Cindy), Tom Nolan (Dennis Taylor), Eric Stoltz (Stoner Bud), Nicolas Cage (Brad's Bud), Anthony Edwards (Stoner Bud)
DVD ON AMAZON: Fast Times at Ridgemont High (Widescreen Special Edition), Fast Times at Ridgemont High (Full Screen Special Edition), Fast Times at Ridgemont High (Collector's Edition) (High School Reunion Collection)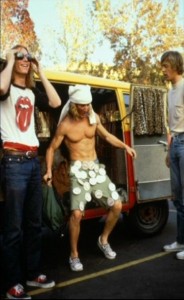 BLU-RAY ON AMAZON: Fast Times at Ridgemont High [Blu-ray]
DVD REVIEWS:
'Fast Times at Ridgemont High' finally got the special edition treatment on DVD back in 1999, much to the delight of the film's longtime fans. And if not as extensive as some of Universal's other collector's editions, it was still a nice package of extras that reunited many of the film's key cast and crew. (Note that all of the extras are included only on the standard DVD side of this HD DVD/DVD combo disc — even the audio commentary — which is quite annoying. Please, stop with these combos already!)

First up is a screen-specific audio commentary with director Amy Heckerling and screenwriter Cameron Crowe. It's a very entertaining listen. As you 'Fast Times' scholars know, Crowe was originally hired to write an article on the state of the American high schooler, circa 1980, for Rolling Stone magazine. That became the book 'Fast Times at Ridgemont High,' then the movie. Crowe touches upon that experience often, and proved instrumental to helping Heckerling in casting, directing and editing the film. Even if you are a not a huge fan of the film this track is well worth a listen, as Crowe's journey is fascinating in and of itself. (Note an oddity about the commentary: on the HD DVD side, the track is edited at the end to fade out after the credits. However, on the DVD side, Heckerling and Crowe talk for a good seven or eight additional minutes. So if you really want to hear the full commentary, listen to it on the DVD side of the disc.)

Crowe and Heckerling return again in the 30-minute, awkwardly-titled documentary "Reliving Our 'Fast Times At Ridgemont High.'" They are joined by quite an impressive cast list, including Sean Penn, Judge Reinhold, Eric Stolz, Brian Backer and Richard Romanus. It is always a bit of a shock to see old friends you grew up with today, and all have fairly fond memories of working on the film. My only caveats are the almost complete lack of any behind-the-scenes production footage or audition material, as well as the absence of Jennifer Jason Leigh and Phoebe Cates. Who knows why they declined to participate, but it's a shame nonetheless as the doc is a bit lacking without them.– High-Def Digest
This collector's edition disc has a beautiful anamorphic transfer in 1.85:1 ratio without any noticeable artifacts, film noise, or grain. Flesh tones and black levels are dead on, and I was surprised and delighted at the quality of the video in this 17-year-old film. The menus are cut with scenes from the movie and spliced in little tidbits when switching from item to item, very nice as well. Unfortunately the sound doesn't delight. At first I was sure something was wrong but it turned out I was only hearing the Dolby Digital mono track, which in Pro Logic mode or any DSP my receiver was capable of sounded like an AM radio coming out of my center speaker. Turning off any surround effects improved the sound quality, though it was only coming out of my two front main speakers. A shame that the soundtrack of now classic tunes couldn't have had a better sound.

I will give Universal a lot of credit for the extensive extras on this disc. Extras include a documentary "Reliving our Fast Times at Ridgemont High" with most of the stars and now-famous bit players talking about the movie. Good stuff. Then we have a commentary track with the director Amy Heckerling and writer Cameron Crowe as they both inform about the movie and reminisce. It is one of the better commentary tracks I've listened to, with little to no empty gaps in sound. If that wasn't enough, there is a little map that shows video feeds and comment on the locations in the film, production notes, cast and filmmakers' bios and filmographies, the theatrical trailer, and music highlights which take you to the places in the film where the soundtrack songs start. There is even an Easter egg found by clicking on the two bare feet in every bonus menu spot to take you to the spots where classic quotes in the movie begin. 18 chapter spots in this 90-minute movie also ensure you can find that little spot you want to find. Some of you may hit certain spots more than others. — DVDVerdict.com
CLIP:
DELETED SCENES:
TRAILER:
Back to FILMS