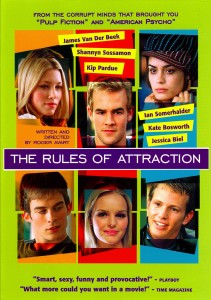 The Rules of Attraction is a college drama based on the novel by Bret Easton Ellis. It was written and directed by Roger Avary. The film was shot at the University of Redlands in California and at different locations around Europe. It opened in October 2002 and had its first DVD release in February 2003.
SYNOPSIS:
The incredibly spoiled and over-privileged students of Camden College are a backdrop for an unusual love triangle between a drug dealer, a virgin and a bisexual classmate. Sean Bateman is the younger brother of depraved Wall Street broker Patrick Bateman. He's also a drug dealer who owes a lot of money to "fellow" dealer Rupert Guest, as well as a well-known womanizer, for he sleeps with nearly half of the female population on campus. Lauren Hynde is, technically, a virgin. She's saving herself for her shallow boyfriend, Victor Johnson, who's left the States to backpack across Europe. Her slutty roommate, Lara, has the hots for Victor as well. Paul Denton, who used to date Lauren, is openly bisexual and attracted to Mitchell Allen, who's dating Candice to prove to Paul that he's not gay. Sean loves Lauren. Paul loves Sean. And Lauren may love Sean.
CAST:
James Van Der Beek (Sean Bateman), Shannyn Sossamon (Lauren Hynde), Jessica Biel (Lara), Kip Pardue (Victor), Kate Bosworth (Kelly), Ian Somerhalder (Paul Denton), Joel Michaely (Raymond), Swoosie Kurtz (Mrs. Jared), Faye Dunaway (Mrs. Denton), Clifton Collins Jr. (Rupert), Jay Baruchel (Harry), Clare Kramer (Candice), Eric Stoltz (Mr. Lawson), Skyler Stone (Quinlivan), Eric Szmanda (NYU Film Student), Colin Bain (Donald)
DVD ON AMAZON: The Rules of Attraction
BLU-RAY ON AMAZON: The Rules of Attraction [Blu-ray]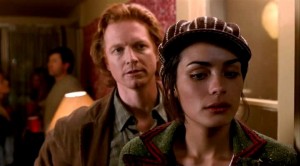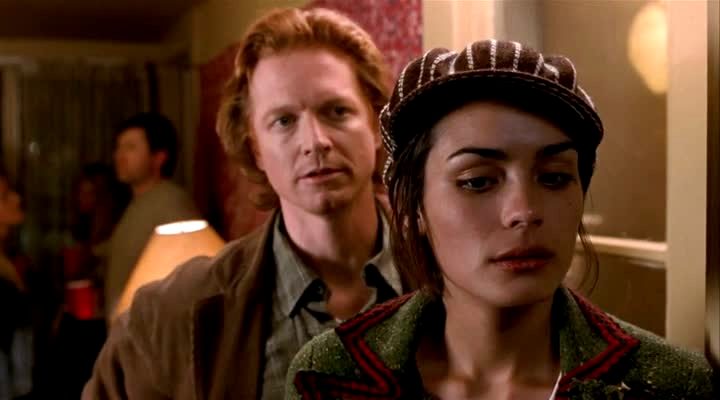 DVD EXTRAS (from a review at MovieFreak.com):
Commentary by Carrot Top: I am not a Carrot Top fan. I find his humor to be painfully sophomoric. But this commentary is absolutely one of the funniest things I have ever heard. He had nothing whatsoever to do with the film. He is just watching the movie – seemingly for the first time – and commenting on it, and it turns out to be one of the best commentary tracks ever on a DVD. This is a must-hear.
Five Revolving Door Commentaries: There are commentary tracks with five different groups of cast members and production people who worked on the film, each talking about The Rules of Attraction from the point of view of their experience on the film. In the first track we hear from Sharon Seymour, Ron Jeremy, Ian Somerhalder, and Russell Sams, in the second from Shannyn Sossamon, Theresa Wayman, Kip Pardue, and Clifton Collins Jr., in the third from Jeremiah Samuels, Andy Milburn, Thomas Ian Nichols, and Joel Michaely, in the fourth from Robert Brinkman and Harry Ralston, and lastly from Sharon Rutter and Eric Szmanda.
Sundance Channel Presents Anatomy of a Scene: This runs about half an hour in length and goes into detail on the key split screen scene in the film.
Book Spot: A commercial for the book.
Soundtrack Spot: A commercial for the soundtrack.
There are also three trailers for the film. We have the Original Theatrical Trailer, the Unrated Promo Trailer, and the Rated Promo Trailer.
The bonus material really goes into detail about the making of the film. With all those commentary tracks there is little left to wonder about how the film was made, how people were cast, what locations were used, and any number of other facts about the production.
BLU-RAY REVIEW: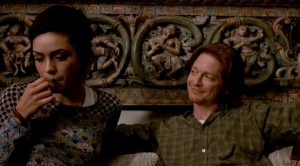 The Rules of Attraction didn't set box office records, but back in the earlier days of DVD, it got a pretty solid release, with six commentaries and a featurette plus some promotional material. That disc has largely been ported over for this Blu-ray release. The transfer definitely ups the ante from the DVD, offering more fine object detail and colors that "pop" just a little bit more on this AVC-encoded transfer. Grain can be a bit overwhelming, though, and darker scenes aren't as inky as I'd like, but for a low-budget black comedy, the film looks good. The audio track also gets an upgrade to a lossless DTS-HD track that does a great job representing the film's strong sound design. There are numerous moments where multiple voices overlap, and the central dialogue comes through clearly while distributing atmosphere to the surrounds. The six commentaries have been ported over from the last release. One is by Carrot Top (yes, that Carrot Top). He's not really familiar with the movie, and instead just riffs about it and tells dirty jokes. It's fitfully amusing, but not great. The other five are "revolving door" commentaries. This means that a total of sixteen people were recorded for these five tracks, from the actors to the producers and production designers. This means five commentaries of almost no dead time that cover everything from the experience of being on set to how various shots where achieved. It's a lot of material, but worth going through for fans of the film. The film's trailers and promos are also included from the previous disc. — DVDVerdict.com
TRAILER:
Back to FILMS