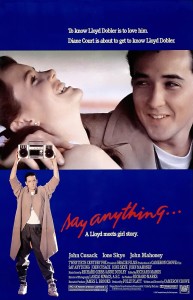 Say Anything… is a romantic drama written and directed by Cameron Crowe, starring John Cusack and Ione Skye. Eric shows up in several party scenes as Vahlere, the keymaster. He was also a production assistant on the film.
Say Anything… was released in theatres in April 1989. It came out on DVD in March 2002. The 20th Anniversary Edition was released on DVD & Blu-ray in November 2009.
SYNOPSIS:
High school senior Lloyd Dobler wants nothing more than to go out with beautiful and intelligent Diane Court. Lloyd attempts to win her heart over the objections of her over-protective father before Diane leaves for a scholarship in England.
CAST:
John Cusack (Lloyd Dobler), Ione Skye (Diane Court), John Mahoney (James Court), Lily Taylor (Corey Flood), Amy Brooks (D.C.), Pamela Adlon (Rebecca), Jason Gould (Mike Cameron), Loren Dean (Joe), Glenn Walker Harris Jr. (Jason Dobler), Charles Walker (Principal), Eric Stoltz (Vahlere)
DVD ON AMAZON: Say Anything, Say Anything, Say Anything… (20th Anniversary Edition)
BLU-RAY ON AMAZON: Say Anything… (20th Anniversary Edition) [Blu-ray]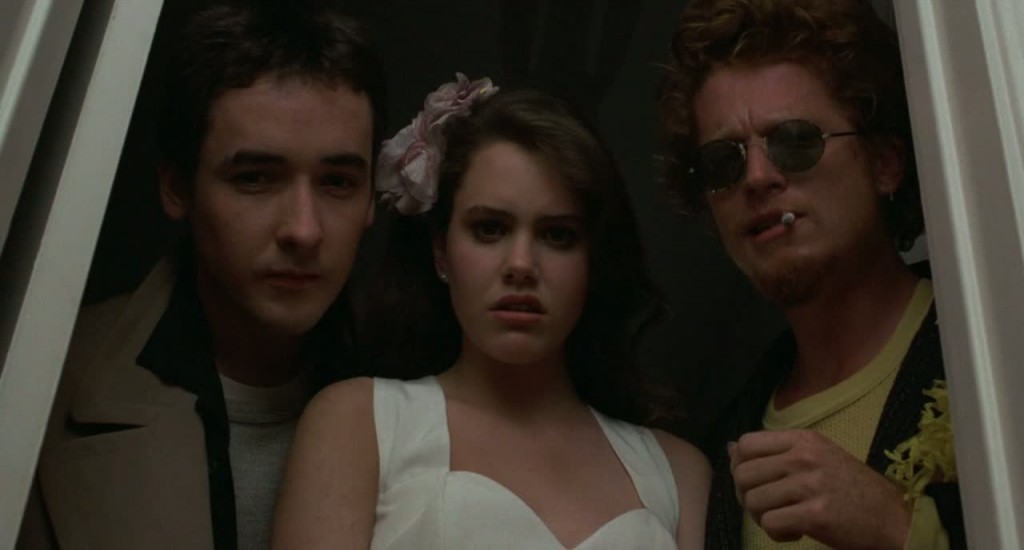 DVD REVIEW:
The DVD of Say Anything has been a long time in coming, and thankfully it was worth the wait. Video is presented in 1.85:1 anamorphic widescreen. It's not pristine, but it's certainly acceptable. Colors are a bit subdued, though black levels are deep without washing out detail.

There's minimal edge enhancement or pixelization. It can be a bit grainy, but it's not distracting and it's something that's expected from a movie over ten years old. Source artifacts are at a minimum. Audio is available in Dolby Digital 5.1 and 2.0 Surround, both remixed from its theatrical stereo. It's forward centric except for the music, an integral part of all Cameron Crowe films.

The laundry list of features is as follows: a commentary track, ten deleted scenes, 13 extended scenes, five alternate scenes, a featurette, two trailers, eight TV spots, and a photo gallery. Whew. The commentary track features Cameron Crowe, John Cusack, and Ione Skye. It's a fun, informative track that never lags. If that's not good enough, it's not just a commentary track—there's a 20-minute introduction with the three of them sharing their memories before the movie even starts!

The deleted/extended/alternate scenes add up to nearly 50 minutes of extra footage. Some of it is redundant, but that's fine, because it shows the actors and director honing the movie into the perfection that it is. The best moments are the alternate takes of the boombox scene that I alluded to earlier, for you get to hear the music that was actually playing on the boombox while they were shooting. Let's just say that it was not Peter Gabriel's now-famous "In Your Eyes."

The featurette is just a promotional puff piece from the movie's release, clocking in at seven minutes, and is hardly worth mentioning. Voice Over Lady has the nerve to call Lloyd and Diane "the modern-day Romeo and Juliet," though I'm fairly certain there were no warring families or suicide pacts, but it's balanced out by Cameron Crowe calling Lloyd a "warrior for optimism."

I think I just found what I want to be written on my tombstone. The trailers and TV spots are nothing special, but they at least seem like a harbinger that the glam of the '80s was soon to be replaced by the brooding introspection of the '90s. The photo gallery consists of a handful of Cameron Crowe's pictures taken on set, and curiously most of them are of John Mahoney. All told, the bulk of the features aren't all that interesting, but the commentary and extra footage more than makes up for it. – DVDVerdict.com
BLU-RAY REVIEW:
The film gets a reasonably solid Blu-ray transfer, which is honestly more than I expected. The film didn't look great on DVD, and I figured that it might just get dumped into the hi-def format without much effort put into cleaning it up, but it thankfully appears that the folks at Fox have put some work into this 20th Anniversary release. The image is surprisingly clean and clear, boasting solid detail throughout. The darker scenes benefit from considerable clarity and depth. Flesh tones occasionally seem a tad too reddish, but it's not a significant issue. The audio is excellent, particularly during the moments in which Crowe cranks up one of the many memorable tunes included on the soundtrack. Dialogue is clean and clear, mixing nicely with the sound design.

A combination of new and old supplements are included. Let's begin by checking off the old stuff. The commentary by Crowe, Cusack, and Skye is still here, along with all of the deleted/alternate scenes, the vintage EPK-style featurette, galleries, and a theatrical trailer. Several new pieces have been produced for this disc, beginning with the 22-minute "An Iconic Film Revisited: Say Anything…20 Years Later," which catches up with everyone involved and gets some thoughts from them on the film. Absolutely everyone of note participates, which is cool. You also get a new 9-minute interview with Cameron Crowe (a bit of overlap between this and the featurette, but that's okay), seven minutes of interviews with various comedians talking about how much they love the film, and a trivia track. – DVDVerdict.com
TRAILER:
Back to FILMS