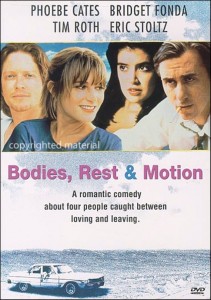 Bodies, Rest & Motion is a drama written by Roger Hedden (adapted from his own play) and directed by Michael Steinberg. It premiered at the 1993 Sundance Film Festival, where it was nominated for the Grand Jury Prize, and was also screened at Cannes later that year.
The film opened in theatres in April 1993. It was released on DVD in June 2003.
SYNOPSIS:
Nick is a feckless television salesman who gets fired and impulsively decides that he and his girlfriend, Beth, will move to Butte, MT, which he's read is "the city of the future." "I read that a while ago, so the future should be there by now," he enthuses. He waits until the last moment to tell Carol, his ex and Beth's best friend, about the move.

While Nick is working his last day, Sid comes to the couple's house to paint it for the next tenants. He quickly develops an interest in Beth. He, Beth, and Carol get stoned and hang out. When Sid hears about the move, he tells Beth that he's never left Enfield, and has no interest in traveling.

Meanwhile, Nick decides to take off on his own. When Beth gets word of this from Carol, she finds solace in Sid's arms. Sid proclaims his love the next morning, and implores Beth to stay. Meanwhile, Nick visits his childhood home, looking for his parents, has an epiphany, and decides to return to Carol.
CAST:
Bridget Fonda, Tim Roth, Eric Stoltz, Phoebe Cates, Alicia Witt, Sandra Ellis Lafferty, Jon Proudstar, Peter Fonda
DVD ON AMAZON: Bodies, Rest & Motion
DVD REVIEW:
The disc includes a nice selection of supplements. First up is an Audio Commentary with director Michael Steinberg, screenwriter Roger Heddon, and producer/actor Eric Stoltz. Each participant was recorded separately, and the results were edited together fairly seamlessly. Each talks about his take on the meaning of the film—that it's about ordinary people of a certain generation struggling with a universal conflict and yearning for meaning. They talk about the symbolic importance of Tucson as a setting, and Stoltz talks about his experience as a producer. There's also a nice anecdote about Tim Roth and a phone call from Harvey Keitel.

Next is a 6-minute Featurette about what the film is about. The primary actors talk briefly about their characters, and about the generation they represent.

Next is a 7-minute Behind the Scenes piece that gives you a fly-on-the-wall look at the preparation and filming of a few scenes. Bridget Fonda does a lot of sitting around, making me wish I could just sit with her and talk with her a while. She's so great. Mmmm.

The final feature of note is a 3-minute selection of Rehearsal Footage, which lets you view a split-screen comparison of rehearsal shots versus the finished film. You can choose to listen to the rehearsal audio or the finished audio. Cool feature, but too short.

You also get a full-frame Theatrical Trailer and a Television Spot. — DVDTalk.com
PHOTOS:
TRAILER:
Back to FILMS