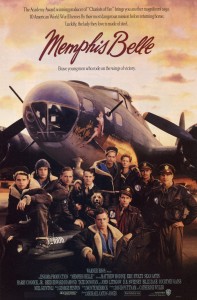 Memphis Belle is a war movie written by Monte Merrick and directed by Michael Caton-Jones. The film is based on William Wyler's 1943 documentary Memphis Belle: A Story of a Flying Fortress. The film was released in theatres in October 1990. George Fenton was nominated for a BAFTA for Best Original Film Score.
Memphis Belle came out on DVD in May 1998.
SYNOPSIS:
The "Memphis Belle" is a World War II bomber, piloted by a young crew on dangerous bombing raids into Europe. The crew only have to make one more bombing raid before they have finished their duty and can go home. In the briefing before their last flight, the crew discover that the target for the day is Bremen, a heavily-defended town that invariably causes many Allied casualties.
CAST:
Matthew Modine (Captain Dennis Dearborn), Tate Donovan (1st Lt. Luke Sinclair), Eric Stoltz (Sgt. Danny Daly), Sean Astin (Sgt. Richard Moore), Reed Diamond (Sgt. Virgil Hoogesteger), D.B. Sweeney (Lt. Phil Lowenthal), Harry Connick Jr. (Sgt, Clay Busby), Billy Zane (Lt. Val Kozlowski), Courtney Gains (Sgt. Eugene McVey), Neil Giuntoli (Sgt. Jack Bocci), David Strathairn (Colonel Craig Harriman), John Lithgow (Lt. Colonel Bruce Derringer)
INTERVIEW:
One classy project Stoltz really was offered and did not turn down was Memphis Belle, the 1990WWII story of young airmen making a last treacherous mission over Germany. Stoltz is happy to talk about his work on this film, mostly because the preparation he did was someone else's idea—director Michael Caton-Jones's. "Michael was a little twisted. He had us spend three weeks running five miles a day with packs on our back and sleeping with 20 other smelly, grumpy guys. I think he wanted to see spoiled Hollywood actors tortured and beaten down so he could come in and direct. After boot camp we were putty in his hands. He wore a general's cap on the set and occasionally walked around with a riding crop. He's a good director, but his sense of humor is obviously strange." — Movieline, June 1992
DVD ON AMAZON: Memphis Belle (Keepcase), Memphis Belle (Snap Case)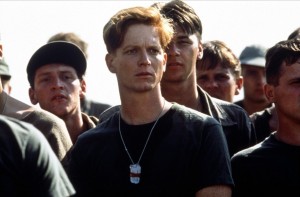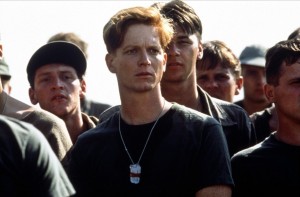 DVD REVIEWS:
The action scenes are terrific and the various ways the aircrews could die show why so many perished in wartime. It is tension to the max and the final 20 minutes of the movie will have you sweating in your goggles.

Visually, Memphis Belle was a little hit and miss. The close ups inside the planes were stunning, with peeling paint and scratch marks evidence of razor sharpness, but there were times during the long shots when it seemed to be lacking body and contrast.

However, to not get hold of a copy of this exceptional tale on those grounds would be doing adventure/action lovers a disservice.
This is one of the best war movies made and will have you hanging up your parachute and just staying strapped in for the ride. – Napoleon Guide
Video
Contrary to the packaging, Memphis Belle is presented in non-anamorphic 1.66:1, not 1.85:1. The quality of the video is highly variable, with some scenes faring better than others. There are numerous scratches on the print, which detract from the overall enjoyment, and there seems to be an odd reddish/pink tint to the picture, but this isn't the worst transfer I've ever seen. It's certainly better than VHS, and although it lacks the definition of an anamorphic transfer, the detail level is acceptable throughout. For those who prefer them, the disc also contains a pan-and-scan transfer on side B.

Audio
The English Dolby Digital 5.1 is fairly good, and succeeds in drawing you into the action. It could perhaps have benefited from a bit more bass during the airborne combat though. There are some great opportunities for surround effects during these sections, but these don't live up to their full potential. Dialogue sometimes gets lost amongst the rest of the sound, and it all sounds a bit muddy at times.

Extras
As is usual for this sort of back catalogue disc, extras are almost non-existent. Once again scene access is laughably claimed as an "extra", but the only real feature on offer is the theatrical trailer. – DVDActive.com
CLIP:
TRAILER:
Back to FILMS