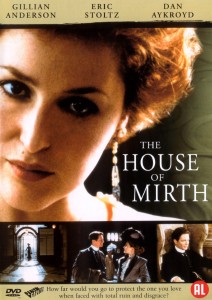 The House of Mirth is a drama adapted from Edith Wharton's novel of the same name, written and directed by Terence Davies. It was first screened at the Locarno Film Festival in Switzerland in August 2000 and had its North American premiere at the Toronto Film Festival in September 2000.
The film was nominated for the Best British Independent Film Award, Terence Davies was nominated for Best Director, and Gillian Anderson for Best Actress, which she won. In 2001, The House of Mirth also earned a BAFTA nomination for Best British Film, and production designer Don Taylor won the Golden Satellite Award for Best Art Direction. The film was released on DVD in May 2001.
SYNOPSIS:
Terence Davies' The House of Mirth, is a tragic love story set against a background of wealth and social hypocrisy in turn of the century New York. Lily Bart is a ravishing socialite at the height of her success. Torn between her heart and her head, Lily always seems to be doing the right thing at the wrong time and her beauty and charm begin to attract unwelcome interest and jealousy. Conforming to social expectations, she begins to seek a wealthy husband, but her quest comes to a scandalous end when she is falsely accused of having an affair with a married man and is rejected by society and her friends.
CAST:
Gillian Anderson (Lily Bart), Eric Stoltz (Lawrence Selden), Dan Aykroyd (Augustus 'Gus' Trenor), Eleanor Bron (Mrs. Julia Peniston), Terry Kinney (George Dorset), Anthony LaPaglia (Sim Rosedale), Jodhi May (Grace Julia Stepney), Elizabeth McGovern (Mrs. Carry Fisher), Laura Linney (Bertha Dorset), Paul Venables (Jack Stepney), Pearce Quigley (Percy Gryce)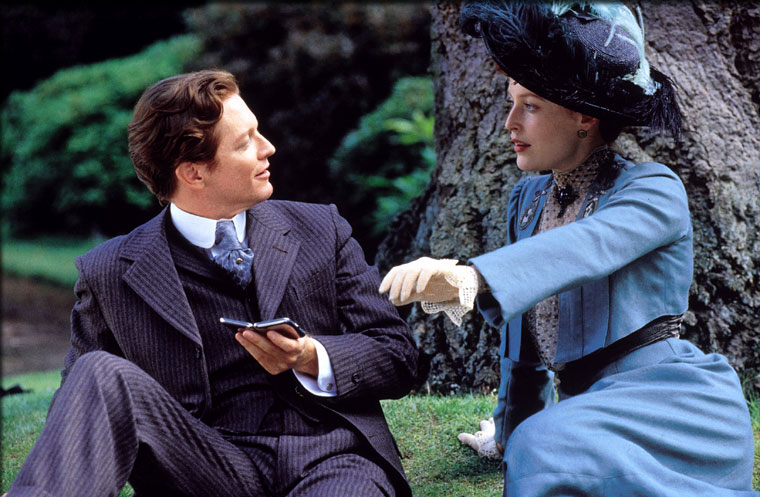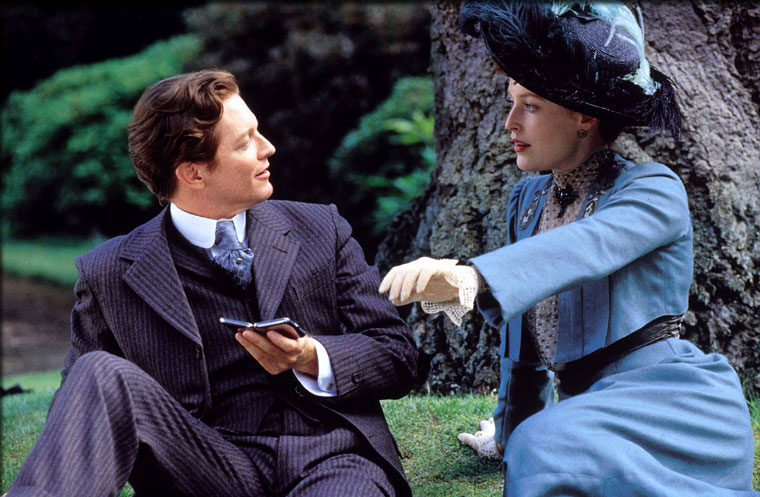 INTERVIEWS:
The Guardian (Oct. 2000):
I ask Eric Stoltz, who plays Gillian Anderson's unrequited lover, what Davies is like to work with. "Terry is a whirlwind of passion. He's a Tasmanian devil crossed with Doris Day. He gets so passionately involved in everything he does that he becomes a dervish of activity and emotion." He looks over to Davies, who is giving someone a huge hug. "He's quite subdued now, but on set… when he is up, there is no greater joy in the world than being around him." And when he's down? "When he is in a dark place the world becomes darker. He's a truly lovely and unique artist. I do worry about him out in the world, though, because he feels things so deeply."

Stoltz says, as an American actor, he was used to having things his own way; and suddenly Davies comes along and tells him how to say every line. "He doesn't so much direct as conduct. He had the film in his head and we were there to serve his vision. However much it drove us mad, it also delighted us and intrigued us and fascinated us and we ended up loving him."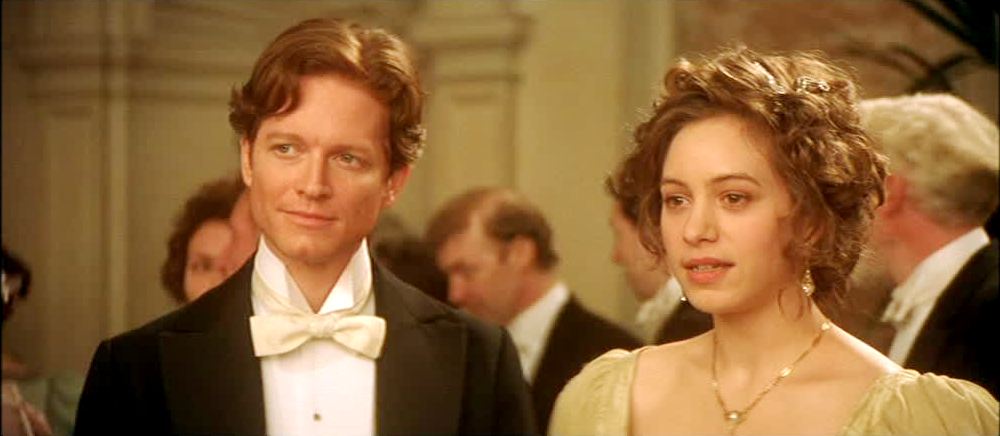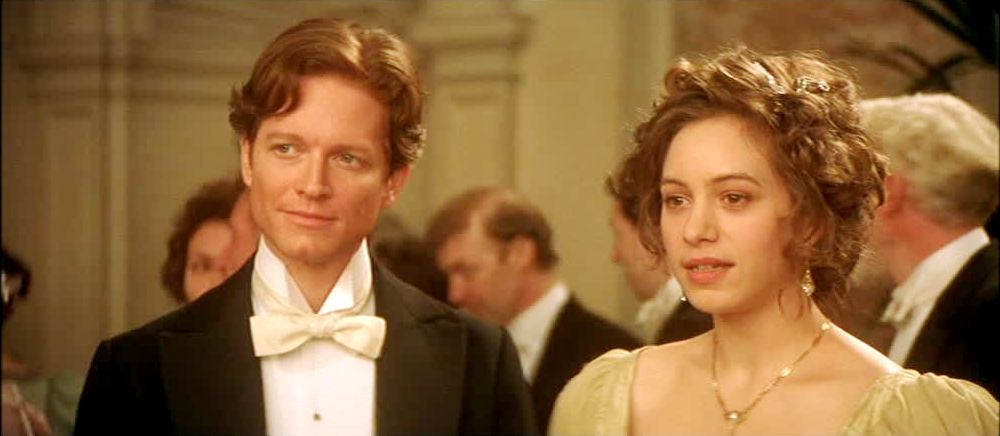 Perth Sunday Times (June 2001):
Most recognise the name, if not the red-head, blue-eyed, baby-faced actor from one thing or another. In his new film, The House of Mirth (based on Edith Wharton's 1905 novel), he plays lawyer Lawrence Selden. He is the object of Lily Bart's (Gillian Anderson) latent affection. It's another feather in the cap for the versatile 39-year-old, who has played eclectic character roles in studio films, critically acclaimed independent films, television and theatre.

"I find that 'window' roles are quite challenging. Roles that don't really propel the action but sit back and listen and observe," he said from Los Angeles. (…)

"I loved the book, and this was a very fine script. I met some great people making it, many of whom are still very dear friends.

"Also, we shot it in Scotland, which was a treat."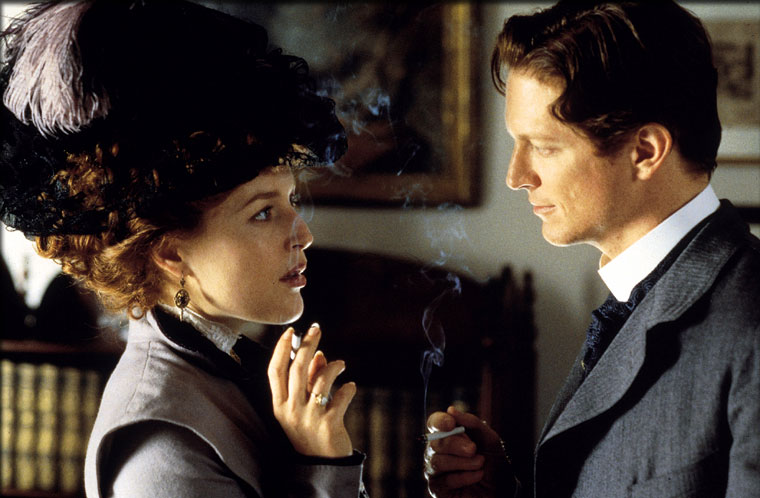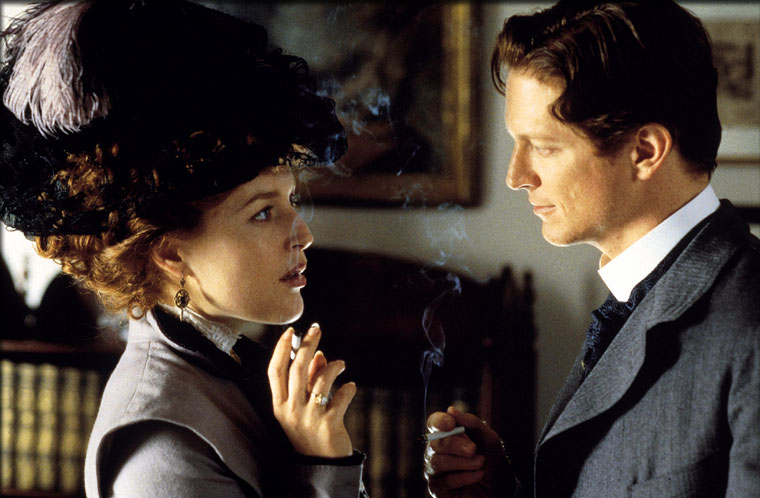 DVD ON AMAZON: The House of Mirth
DVD REVIEWS:
Terence Davies offers a commentary track that reveals the director's good manners in his reluctance to speak over the movie. Though occasional insights into which bits were taken from the novel and which are "his" are interesting and fitfully revealing of process, Davies lapses into long periods of contemplative silence (some lulls lasting as long as ten minutes), interrupted only by a hushed "What a great line" or "Isn't she wonderful?" His commentary on a twelve-minute "deleted scene" (which is essentially the first twelve minutes of the film, uncut), is more fleshed but essentially just a litany of regrets for having made any editing choices whatsoever. Most interesting is the fact that every scene removed from these twelve minutes would have aided immeasurably in the sense and flow of the film.

The special features are rounded out by theatrical trailers for The House of Mirth, The Remains of the Day, Sense and Sensibility, Little Women, and The Age of Innocence plus the requisite filmographies (which only go back as far as 1980). — Film Freak Central
Extras: The other extras on the disk are exactly the material we have come to expect from VCI. The cast and crew interviews come straight from the Electronic press kit but I have to say are a lot more interesting and relevant then the usual material that makes it into these things. As ever the behind the scenes footage is raw and without voiceover. Two locations are shown with the build up to a final shot. There is of course also the theatrical trailer and a featurette running to 7 minutes and uses some of the clips (only a few though) that appear in the raw cast and crew interviews and the behind the scenes footage.

Two other features of note are included on the disk. The first is Gillian Anderson's speech which was videotaped for showing at the British independent film awards where she won best actress. I'm sure that many of her fans will love to see this ! The second is a full-length commentary from director Terence Davies. Terence sounds like he loved making the film, he loves the story and he loves the art of filmmaking. He tells the listener all about the story and how film making can emphasis certain elements of the story. Students of filmmaking should watch and listen to this commentary, there is so much that can be learnt from listening to Terence. This is one of the best commentaries I listened to, Terence's voice is rich and enchanting and do listen out for his wonderful comment about the wrong type of birds appearing on the soundtrack! — celtoslavica.de
TRAILER:
Back to FILMS