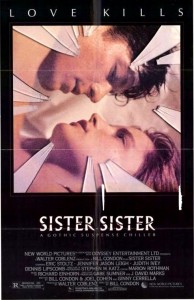 Sister, Sister is a Southern Gothic thriller directed by Bill Condon, who also co-wrote the script with Ginny Cerrella and Joel Cohen.
The film premiered at the Toronto Film Festival in September 1987 and hit theatres in February 1988.
It was released on DVD in January 2001.
SYNOPSIS:
Sisters Charlotte and Lucy Bonnard live together in the gloomy Louisiana family mansion that they've turned into a guest house.

When a mysterious young man enters their lives, the sisters are forced to confront a dark past filled with forbidden passions and deadly secrets.
CAST:
Eric Stoltz (Matt Rutledge), Jennifer Jason Leigh (Lucy Bonnard), Judith Ivey (Charlotte Bonnard), Dennis Lipscomb (Sheriff Cleve Doucet), Anne Pitoniak (Mrs. Bettlehelm), Benjamin Mouton (Etienne LeViolette), Natalia Nogulich (Fran Steuben), Richard Minchenberg (Lenny Steuben), Bobby Pickett (Roger), Jason Saucier (Jud Nevins)
DVD ON AMAZON: Sister, Sister
PHOTOS:
TRAILER:
CLIP:
Back to FILMS