Eric directed two and guest starred in three episodes of Grey's Anatomy in the show's fifth season. He played a serial killer on death row.
EPISODES:
5.03 Brave New World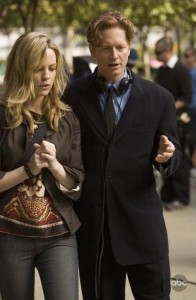 WRITTEN BY: Debora Cahn, Shonda Rhimes (creator)
DIRECTED BY: Eric Stoltz
AIR DATE: October 16, 2008
Calllie worries over her first real date with Erica. Cristina stumbles upon a neglected area of the hospital.
5.07 These Ties That Bind
WRITTEN BY: Stacy McKee, Shonda Rhimes (creator)
DIRECTED BY: Eric Stoltz
AIR DATE: November 13, 2008
Izzie wrestles with her ghost, Torres uses a ground-breaking procedure to get her mind off of Hahn, and the interns continue teaching themselves spurred on by a new cohort.
________________________
5.10 Wish You Were Here
WRITTEN BY: Debora Cahn, Shonda Rhimes (creator)
DIRECTED BY: Rob Corn
AIR DATE: January 8, 2009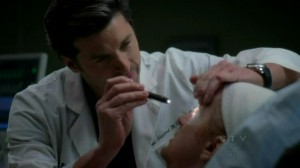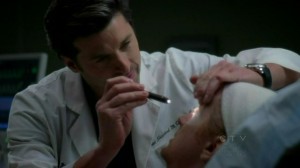 Derek has trouble with objectivity concerning his death row patient, Cristina and Meredith continue their feud, Izzie confides her problem to Alex, and the Chief faces what's become of his life's work.
5.11 Sympathy for the Devil
WRITTEN BY: Jenna Bans, Shonda Rhimes (creator)
DIRECTED BY: Jeannot Szwarc
AIR DATE: January 15, 2009
Derek's mother visits, the death row patient starts angling for death in the hospital, Izzie craves more in her relationships, and Jackson's need for organs becomes critical.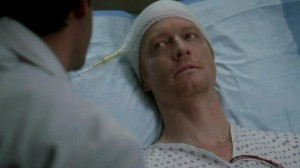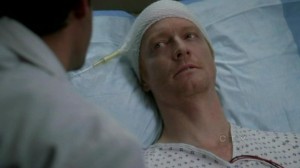 5.12 Stairway to Heaven
WRITTEN BY: Mark Wilding, Shonda Rhimes (creator)
DIRECTED BY: Allison Liddi
AIR DATE: January 22, 2009
Meredith and Miranda each cross a line, William Dunn regrets his decision and Izzie finally confronts what Denny's appearance means.
INTERVIEWS:
My Take on TV (Jan. 2009):
You are going to have a couple episodes on GREY'S ANATOMY. Tell me about the character, how it came to be, all the good stuff.
Eric Stoltz: Well, I play William Dunn, who is a deathrow inmate. It came to be, Shonda Rhimes called me while I was editing an episode that I directed of GREY'S ANATOMY called "Brave New World." And she called, and said she wanted to come up and talk to me about a role that she wanted me to play. In the 45 minutes between that phone call and the time she came into the editing room, I did not get much work done. I was thrilled, wondering what kind of role she envisioned me bringing to life. I was certain it was some kind of Cary Grant, Jimmy Stewart romantic hero, a charming and honorable man who waltzes in and a romance erupts. You can imagine my surprise when she told me it was the role of William Dunn, the serial killer [laughs]. My ego heads in one direction and reality is more likely than not, somewhere else entirely.

How is it versus being behind the camera, now being in front of the camera on the show?
It was a great relief. A lot less pressure, and a lot more fun.

Why do you think people should tune in to catch your episodes?
[laughs out loud at me]

That sounded a lot less ego-driven on paper ha!
[laughs] That's a very funny question. I haven't the foggiest idea. If they like the show, they should absolutely tune in, and if they don't, they should watch something else! (…)

Now what's the difference between shooting a show like GREY'S ANATOMY and shooting a show like NIP/TUCK?
Where do I begin? GREY'S ANATOMY is like having a giant Christmas dinner with all your relatives in one room, at one table, and they're all a little drunk, they're not sure if you can cook and someone doesn't like the potatoes, and someone would rather be at a restaurant, but after the dinner, one of them tells a story, and the rest chime in, and everyone starts laughing and toasting, and suddenly inspite of all the pressure and the tension, you really feel connected to them and you love them all beyond words and you feel like you're a part of a huge family of freaks. But NIP/TUCK is more like an intimate dinner with 2 or 3 friends and someone drinks too much, and you get in an argument about ethics or biology and meaning and nature of beauty; you end up punching someone, and then kissing someone else, and going home, the next morning, wondering what you've done.
TV Guide (Jan. 2009):
TVGuide.com: There's a bit of a disconnect between "Eric Stoltz" and "serial killer." One, are you glad there's that disconnect? And two, do you think it helps you bring something different to the role?
Eric Stoltz: [Laughs] Yes, I am happy that I really don't have much in common with killers. Absolutely. But, that being said, it's always bracing to explore what I might actually have in common with them underneath at all. Throughout the course of the day, I do have impulses to lash out at someone or to ram the car that took my parking space or yell at the cab that splashed water on me. But because I'm living in society and want to be a good person, I don't let those impulses out.

TVGuide.com: Is your character, William, remorseful at all?
Stoltz: You think he might have some remorse, but he could also be playing at having remorse, in order to get what he wants. Sociopaths tend to be pretty good actors. Nobody had any idea what Ted Bundy was up to for a long time. (…)

TVGuide.com: Does William's case present divisive moral and ethical dilemmas for the doctors?
Stoltz: Absolutely. When someone on death row is brought to a hospital, doctors are confronted with their own ethical code. "Is it right to save the life of someone who has done so much bad in the world?" "What is a doctor's job and how should one respond to this situation?" It presents a lot of interesting, rich things for all these talented actors to play with.
MSN TV: You're set to guest star on "Grey's Anatomy." What's it like moving to the other side of the camera on a show that you have directed a couple of times?
Eric Stoltz: It's a little bit strange. The cast did not hesitate to let me know that I was no longer directing them. And I think they took some glee in the fact that I was handcuffed to the bed in my scenes. (…)

Which doctor on "Grey's" would you want to operate on you in real life?
Goodness. (Laughing.) That's a tough call. Depends on what's wrong with me. What's wrong with me?

Good question. Let's see. How about trauma from a car accident?
I would say Kevin McKidd because he's a redhead. I have an innate trust of redheads.

There are fewer and fewer redheads in the world.
There are only 6 percent of us on Earth right now. We're dinosaurs.

I've read that you are known for playing either a sympathetic misfit/good guy or a sociopathic criminal. Which is more enjoyable?
Well, I don't think there's that great of a difference. The interesting thing about sociopaths or evil characters or even evil people in this world is that for the most part they are not evil 24 hours a day. They have friends. They pay their bills. They go out and play with their dogs and water their plants. Then they go out and do an unthinkable and heinous act. A person may smile and smile and be a villain.

I know it's easy for people to classify characters as either good or evil, but I do believe that most exist in a gray area tilting one way or the other, or listing one way or the other depending on what's going on in our lives. Or depending on if we're going through a difficult moment or if we've had a bad meal.
E!Online (Jan. 2009):
Shonda Rhimes invited Eric to appear in front of the camera after his second directorial outing on the show. But the opportunity wasn't what he expected. He says, "My massive ego took over and I, of course, thought [the part] was a romantic hero, someone to come and save the day. When Shonda told me it was a death-row inmate, I was a little bit stunned."

However, Shonda did her usual magic and convinced Stoltz it was still an intriguing part: "She said that people who do truly evil things usually are not evil 24 hours a day. They have friends, they have a life. You should really hate this man for all that he does, but because that part is so well-written, that character gradually works itself into your subconscious, and some deep, disturbing recognition happens."
PHOTOS:
Back to TELEVISION
Back to DIRECTING