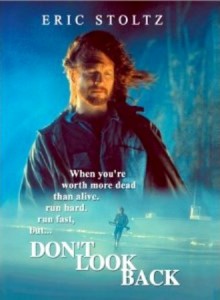 Don't Look Back is an HBO film directed by Geoff Murphy from a script by Tom Epperson and Billy Bob Thornton, who also appears in the film.
Eric plays a drug addict who steals a suitcase full of money from a drug gang led by Billy Bob Thornton. John Corbett and Josh Hamilton play his buddies back home in Texas, R.G Armstrong plays his grandfather, and Amanda Plummer shows in up a couple of scenes as his ex-girlfriend.
Don't Look Back premiered in July 1996. It was released on VHS in March 1998 and on DVD in January 2003.
SYNOPSIS:
Jesse Parish, a down-and-out musician with a bad drug habit, stumbles on a drug deal gone awry and find himself a suitcase full of money, which he aims to keep. He heads home to Galveston, Texas, to the people he deserted seven years ago when he left in search of fame and fortune. But drug money brings nothing but trouble — and people who want their money back.
CAST:
Eric Stoltz, John Corbett, Josh Hamilton, Billy Bob Thornton, Annabeth Gish, Dwight Yoakam, Amanda Plummer, M.C. Gainey, R.G. Armstrong, Chris Hogan, Mickey Jones, Jim Metzler
DVD ON AMAZON: Don't Look Back
DVD REVIEW:
Video: Presented in a full-frame aspect ratio (as it was broadcast), Don't Look Back suffers visually from some unfortunate graininess. There is also evidence of some source print damage in the form of slight specks. Otherwise, the film looks wholly unremarkable, with the exception of some nice location shooting in Texas – as Thornton's crew begins closing in, there are some lovely shots of the Gulf region.

Audio: Don't Look Back features a DD 2.0 English and French soundtrack, as well as a mono Spanish track. The score, by J. Steven Soles, is comprised mostly moody guitar and synthesizer, and sounds fine. Although most of the film is dialogue driven, there are some effective scenes toward the end featuring rain, wind, thunderclaps, and guns. Nothing spectacular, but on the whole perfectly adequate.

Extras: The only extra featured in this modest release is a cast and crew filmography.

Final Thoughts: A tidy, compact film at 90 minutes, Don't Look Back is a generic thriller made easy to digest by an excellent ensemble cast. Although both HBO and Billy Bob Thornton usually tend to aim a bit higher with their respective productions, Don't Look Back generally succeeds on its own modest terms. It is a perfunctory thriller, and as far as that goes, not a particularly bad one at that. I recommend this film as a rental if any of the above sounds interesting, or if you are a fan of any members of the cast in general. Otherwise, wait for a late night rerun. — DVDTalk.com
PHOTOS:
Back to FILMS