The Last Dance is a TV drama directed by Kevin Dowling from a script by Dalene Young, based on Beth Polson's story, which was adapted from Todd F. Cope's book The Shift.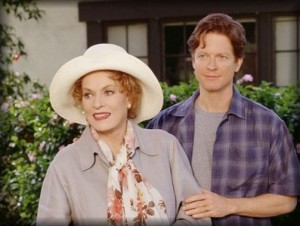 The film was originally broadcast on CBS in October 2000. It was released on DVD, but is only periodically available on Amazon. It also shows up on sites like Ebay, Sell.com, and iOffer.com from time to time.
SYNOPSIS:
Helen, a widow long retired from teaching, lives alone in a charming house brimming with books and small treasures from her years with her husband, Charlie Parker, a military hero and aviator, who was her one true love.

Helen spends her time quietly reminiscing about days gone by and tending to her lush garden. When she falls ill, she is reunited with a former student, Todd Cope, a nurse on staff at the local hospital where she is a patient.
CAST:
Maureen O'Hara (Helen Parker), Eric Stoltz (Todd Cope), Trini Alvarado (Denise Cope), Charles Robinson (Ned), Paul Johansson (Charlie Parker), Deirdre Quinn (Young Helen Parker), Matt Weinberg (Alex Cope), Channing Carson (Jill Cope), Lauren Birkell (Ariel), Josh Hammond (Steve), Miranda Gibson (Anna), Benton Jennings (Mr. Macvey)
DVD ON AMAZON: This is Can't be Love/The Last Dance/Family Secrets (Triple Drama Feature) (Boxset)
CLIPS (with Trini Alvarado):
Back to FILMS