Pictures
Jenna Ushkowitz posted this photo from the set yesterday: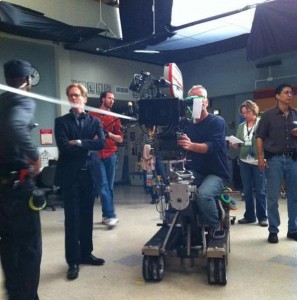 And two more clips from the Pulp Fiction Blu-ray showed up this week. You can find the first one on Facebook. Here is the second one:
Eric's cameo in Judy Moody is on YouTube.
A couple of new film/TV credits showed up on his IMDb page this week. One, an episode of A New Kind of Family from 1979, which isn't available anywhere, and the other, a video he did with Tate Donovan in 1995, produced by Yoko Ono and directed by Peter Bogdanovich, which has been on YouTube for a while now, along with some BTS footage. You can see it here.
And it looks like he is directing an episode of Californication this season. According to the IMDb, it will be episode 5.06. No details yet.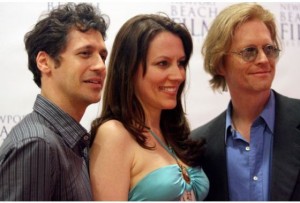 There aren't any interviews with Eric or clips from the Fort McCoy Q&A out there yet, but The Orange County Register has a few photos with Eric, Kate Connor and Andy Hirsch.
Go here and see pics 18-22.
There are also couple of red carpet interviews with Kate Connor and Andy Hirsch: one from the opening night at OCRegister.com and another one on YouTube (Andy Hirsch shows up at the 2:12 min. mark).
Curiously, the tweet from the casting director for Wilfred has been removed, even though a bunch of sites have picked it up via Spoiler TV. Hopefully, someone will confirm it on another site one of these days.
Eric is still working on Glee and several people have tweeted that he is directing the prom episode (see tweets from this guy, for instance). If that's the case, it's episode 2.20 and it will air on May 10.
Cory Monteith has posted another pic from the set (embedded):
Meanwhile, there aren't any reports from the Fort McCoy screenings in Houston, but there is a new interview with Kate Connor on the Houston Public Radio site. The film was shown there last Friday and there is another screening tomorrow, so if you're in the area, you can still catch it.
Last not least, Allison Anders tweets that Eric will be at the Grace of My Heart Q&A/screening on Saturday.