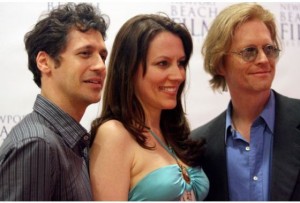 There aren't any interviews with Eric or clips from the Fort McCoy Q&A out there yet, but The Orange County Register has a few photos with Eric, Kate Connor and Andy Hirsch.
Go here and see pics 18-22.
There are also couple of red carpet interviews with Kate Connor and Andy Hirsch: one from the opening night at OCRegister.com and another one on YouTube (Andy Hirsch shows up at the 2:12 min. mark).
Curiously, the tweet from the casting director for Wilfred has been removed, even though a bunch of sites have picked it up via Spoiler TV. Hopefully, someone will confirm it on another site one of these days.