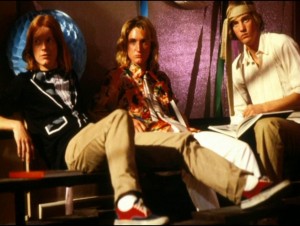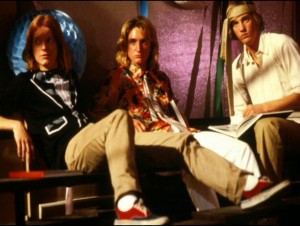 Fast Times at Ridgemont High will be released on Blu-ray this summer. It's been available for pre-ordering on Amazon for a while now and Universal Studios Home Entertainment has finally given it a definite release date: August 9, 2011.
Here are the Blu-ray details and bonus features, from Universal's press release:
FAST TIMES AT RIDGEMONT HIGH:
Academy Award® winner Sean Penn (Milk) stars as the unforgettable Jeff Spicoli in the film that defined the outrageous and bold teen comedy genre, Fast Times at Ridgemont High. Follow a group of Southern California high school students as they explore sex, drugs, and rock 'n' roll.

Directed by Amy Heckerling (Clueless) and written by Cameron Crowe (Almost Famous), this rollicking portrait of 1980s American teen life features film debuts of future stars and Academy Award® winners Nicolas Cage (Leaving Las Vegas) and Forest Whitaker (The Last King of Scotland), plus decade-defining music from The Go-Gos, Oingo Boingo, and The Cars. Jennifer Jason Leigh (Margot at the Wedding), Phoebe Cates (Gremlins) and Judge Reinhold (Beverly Hills Cop) also star.
FAST TIMES AT RIDGEMONT HIGH BLU-RAY™ BONUS FEATURES:
Unleash the power of your HDTV with perfect picture and the purest digital sound available. BD-LIVE™: Access the BD-Live™ Center through your Internet-connected player to watch the latest trailers and more!
U-Control™: Universal's exclusive feature that lets the viewer access bonus materials without leaving the movie!
Scene Companion: Watch behind-the-scenes footage, interviews, bios and more during key scenes with this picture-in-pictures companion.
The Music of Fast Times at Ridgemont High: Instantly identify the songs heard while watching the film, create a custom playlist of your favorites and even purchase them from iTunes®!
pocket BLU™: The groundbreaking pocket BLU™ app uses iPhone®, iPod® touch, Android™, PC and Macintosh to work seamlessly with a network-connected Blu-ray™ player. Also available on the iPad™, owners can enjoy a new, enhanced edition of pocket BLU™ made especially to take advantage of the tablet's larger screen and high resolution display. Consumers will be able to browse through a library of Blu-ray™ content and watch entertaining extras on-the-go in a way that's bigger and better than ever before. pocket BLU™ offers advanced features such as:
Advanced Remote Control: A sleek, elegant new way to operate your Blu-ray™ player. Users can navigate through menus, playback and BD-Live™ functions with ease.
Video Timeline: Users can easily bring up the video timeline, allowing them to instantly access any point in the film.
Mobile-To-Go: Users can unlock a selection of bonus content with their Blu-ray™ discs to save to their device or to stream from anywhere there is a Wi-Fi network, enabling them to enjoy content on the go, anytime, anywhere.
Browse Titles: Users will have access to a complete list of pocket BLU™-enabled titles available and coming to Blu-ray™ Hi-Def. They can view free previews and see what additional content is available to unlock on their device.
Keyboard: Entering data is fast and easy with your device's intuitive keyboard.
uHEAR™: Never miss another line of dialogue with this innovative feature that instantly skips back a few seconds on your Blu-ray™ disc and turns on the subtitles to highlight what you missed.
RELIVING OUR FAST TIMES AT RIDGEMONT HIGH: Hilarious documentary featuring interviews with the cast and crew including Sean Penn and director Amy Heckerling
FEATURE COMMENTARY WITH DIRECTOR AMY HECKERLING AND SCREENWRITER CAMERON CROWE
THEATRICAL TRAILER
FAST TIMES AT RIDGEMONT HIGH – TECHNICAL INFORMATION:
Street Date: August 9, 2011
Copyright: 2011 Universal Studios Home Entertainment
Selection Number: 61106282
Running Time: 1 Hour, 30 Minutes
Layers: BD-50
Picture Format: Widescreen
Aspect Ratio: 1.85:1
Rating: R
Languages/Subtitles: English SDH, Spanish, French
Sound: English DTS-HD Master Audio 5.1, English Dolby Digital 2.0 and DTS 2.0 (Bonus Content only)
FAST TIMES AT RIDGEMONT HIGH – CAST AND FILMMAKERS:
Cast: Sean Penn, Jennifer Jason Leigh, Judge Reinhold, Robert Romanus, Brian Backer, Phoebe Cates, Ray Walston
Directed By: Amy Heckerling
Written By: Cameron Crowe
Executive Produced By: C.O. Erickson
Produced By: Irving Azoff, Art Linson
Director of Photography: Matthew F. Leonetti
Art Direction By: Dan Lomino
Film Editing By: Eric Jenkins
Costume Design By: Marilyn Vance
Casting By: Don Phillips