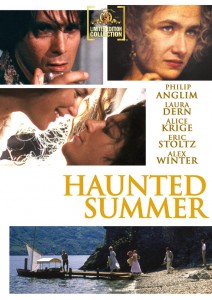 Haunted Summer is finally getting released on DVD on June 14. From Dread Central:
Twentieth Century Fox Home Entertainment's manufacturing-on-demand program continues during the month of June with 29 films being released as part of MGM's Limited Edition Collection.

Unfortunately only one qualifies as real horror, but there's another that should appeal to genre fans so we're including some info on both for your perusal. (…)

Next is the mash-up entitled Haunted Summer from 1988 – Romantic poets Lord Byron and Percy Bysshe Shelley, along with Shelley's future wife, Mary, and her beautiful stepsister, Claire, travel blissfully through Switzerland one summer.

Both women share Shelley's bed, while the tortured Lord Byron flounders in a secret relationship with his physician. They experiment with opium, "free love", and the nature of good and evil. The events form the foundation for Mary Shelley's famous novel, FRANKENSTEIN.

This drama is part surreal, part historical – of lust and fantasy, of ecstasy and horror, of the inner strings of creativity. Stars Philip Anglim, Alice Krige, Eric Stoltz; directed by Ivan Passer.
Still not seeing a place to pre-order it, but the film now has its own page on MGM.com, so their store is probably a safe bet.
Here is an old trailer: