Directing
Deadline has an update on Modern Love – Ally Sheedy, Cara Buono and Samantha Futerman have been cast in the pilot.
Buono will play the ambitious Styles Editor at Simon's paper who is torn between her career and her family. Sheedy will play the paper's ballsy and no-nonsense Assistant Managing Editor. Also cast in the pilot are Alice Ripley in the recurring role of Simon's wife and Charlie Semine, who will guest star as a NYC fireman.
Based on a casting call posted by Central Casting NY (if you have triplets, hit the link), the pilot starts shooting in New York next week, from September 9 to October 4.
And Glee 3.01 has a title – "The Purple Piano Project." Here is the press release from Fox:
(more…)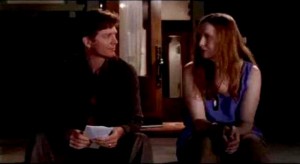 Great news: The Grand Design, a short film Eric directed a few years ago, will finally be available somewhere – on ShortsHD channel on DirecTV (link):
Premiering Sunday, August 21: In The Grand Design a young poet-scientist struggles with his work – and his mother – when he is chosen to author the next spacecraft-carried "message" to alien civilizations. A 16mm short directed by Golden Globe-nominee Eric Stoltz and Neel Keller, written by Susan Miller, and starring Eric Stoltz and Frances Conroy (Six Feet Under).
If you're in the U.S., you won't need DirecTV to see it:
ShortsHD is available on DIRECTV (Channel 568), Dish Network (Channel 375), and AT&T U-Verse (Channel 1789). Access via iTunes will follow shortly after each premiere.
Hopefully, someone will share the film with the rest of the world too one of these days.
Meanwhile, Fort McCoy will be shown at the TriMedia Film Festival in Colorado in September. Source:
Included on the schedule is a screening of "Fort McCoy," selected for the 2011 Choice City Award for Best Feature Film. The film will be shown the evening of Sept. 10.
Eric's cameo in Judy Moody is on YouTube.
A couple of new film/TV credits showed up on his IMDb page this week. One, an episode of A New Kind of Family from 1979, which isn't available anywhere, and the other, a video he did with Tate Donovan in 1995, produced by Yoko Ono and directed by Peter Bogdanovich, which has been on YouTube for a while now, along with some BTS footage. You can see it here.
And it looks like he is directing an episode of Californication this season. According to the IMDb, it will be episode 5.06. No details yet.