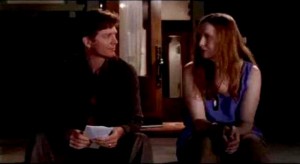 Great news: The Grand Design, a short film Eric directed a few years ago, will finally be available somewhere – on ShortsHD channel on DirecTV (link):
Premiering Sunday, August 21: In The Grand Design a young poet-scientist struggles with his work – and his mother – when he is chosen to author the next spacecraft-carried "message" to alien civilizations. A 16mm short directed by Golden Globe-nominee Eric Stoltz and Neel Keller, written by Susan Miller, and starring Eric Stoltz and Frances Conroy (Six Feet Under).
If you're in the U.S., you won't need DirecTV to see it:
ShortsHD is available on DIRECTV (Channel 568), Dish Network (Channel 375), and AT&T U-Verse (Channel 1789). Access via iTunes will follow shortly after each premiere.
Hopefully, someone will share the film with the rest of the world too one of these days.
Meanwhile, Fort McCoy will be shown at the TriMedia Film Festival in Colorado in September. Source:
Included on the schedule is a screening of "Fort McCoy," selected for the 2011 Choice City Award for Best Feature Film. The film will be shown the evening of Sept. 10.