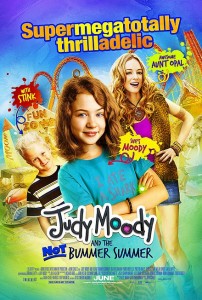 Los Angeles Times mentions that Eric briefly appears in Judy Moody (trailer), the new kids movie directed by John Schultz (When Zachary Beaver Came to Town, The Honeymooners) that opens in theatres in the U.S. today. Not the best review ever, but here is the relevant bit:
Cartoony and Crayola-bright, the high jinks might entrance very young moviegoers, but for all the shenanigans, which include not only unsafe driving but politically incorrect candy consumption, there's maybe one or two (half-hearted) laughs in store for anyone over 5.

Grown-up viewers can at least pass the time looking for familiar faces, Eric Stoltz's among them, in uncredited cameos. — L.A. Times
No idea how brief the cameo is, but it may or may not involve zombies according to this tweet. Dean Cameron is also in the film.
Synopsis:

Judy Moody and the Not Bummer Summer is based on the extremely popular children's book series. The film chronicles Judy Moody's (Jordana Beatty) adventures in which she sets out to have the most thrilling summer of her life with the help of her little brother Stink (Parris Mosteller) and fun-loving Aunt Opal (Heather Graham). The script, penned by Kathy Waugh (Peep and the Big Wide World) and Megan McDonald, is based on the characters in McDonald's popular children's book series, illustrated by Peter H. Reynolds and published by Candlewick Press.