Eric Stoltz
Jenna Ushkowitz posted this photo from the set yesterday: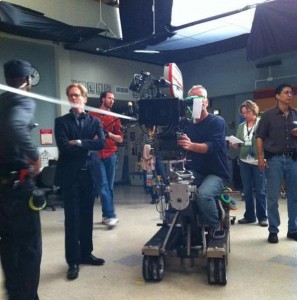 And two more clips from the Pulp Fiction Blu-ray showed up this week. You can find the first one on Facebook. Here is the second one:
Here is another photo from the set of Glee 3.01, nabbed from Facebook: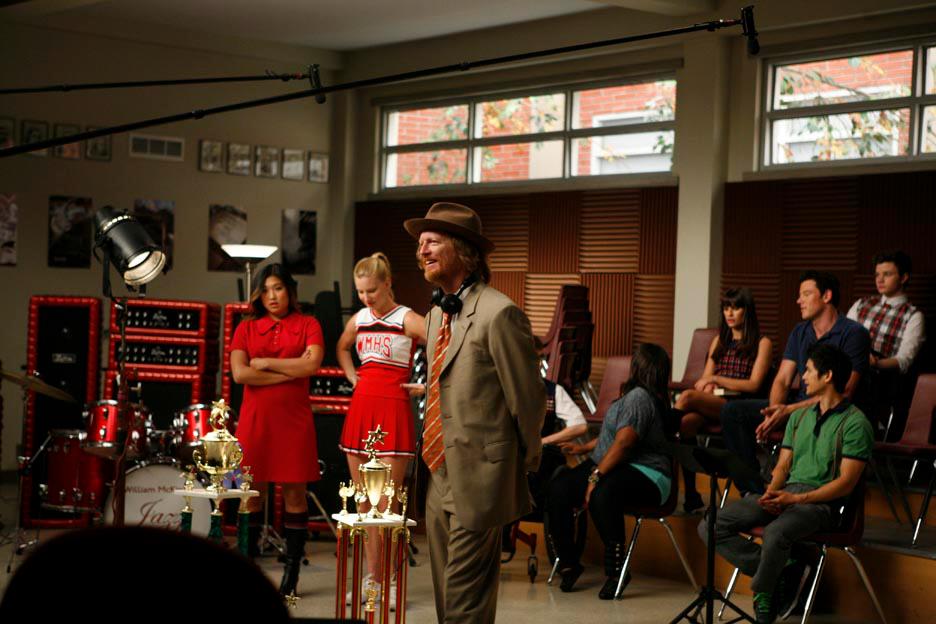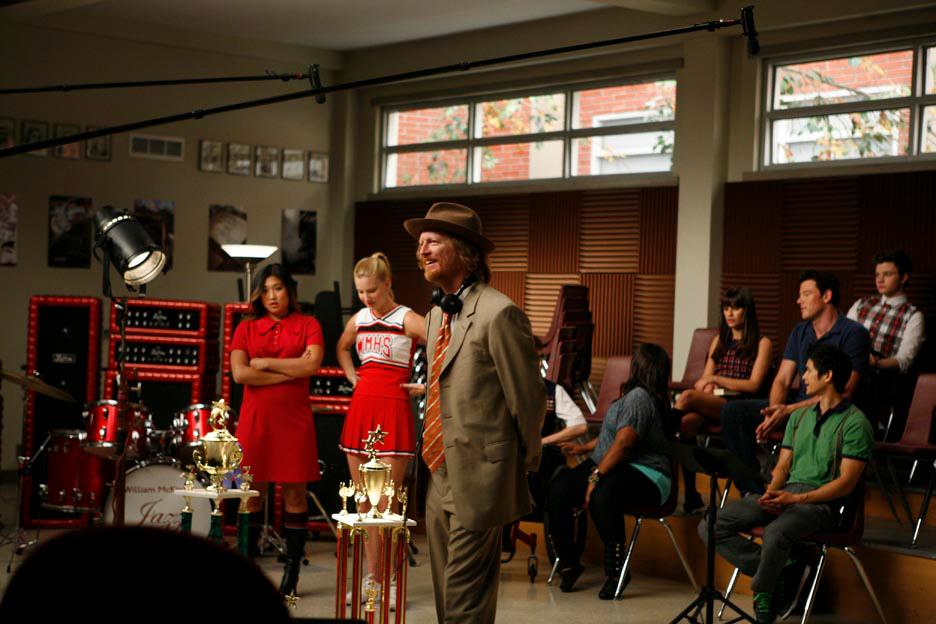 Sparks is getting re-released in a new anthology, "HitRECord Recollection, Volume 1."
The handsome, 8 ¼-by-8¼-inch cloth-bound book — from New Video Group — contains two discs of digital entertainment, including 36 collaboratively made short-form live-action and animated films, music videos and "tiny stories." They've been submitted by members of the artistic community, which claims 40,000-plus contributors.

Artistically, they run the gamut from highly entertaining and innovative, to slight and overly precious. The sketches and drawings can be wildly imaginative and intricately rendered, or delightfully childlike and amusing. In any case, nothing lasts long enough to overstay its welcome. By far, the longest piece, "Sparks," clocks in at 23 minutes, but the presence of sexy Carla Gugino, Xander Berkely and ever-ready Eric Stoltz makes it seem shorter. As JOE, Gordon-Levitt adapted the screenplay from a short story by Elmore Leonard and directed it. — Movie City News
And Eric wasn't at the Boston Film Festival, but Kate Connor and Andy Hirsch were. Production Live Online has posted an interview with them. Not the best audio ever, but I don't think we've seen the poster yet: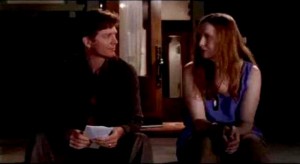 Great news: The Grand Design, a short film Eric directed a few years ago, will finally be available somewhere – on ShortsHD channel on DirecTV (link):
Premiering Sunday, August 21: In The Grand Design a young poet-scientist struggles with his work – and his mother – when he is chosen to author the next spacecraft-carried "message" to alien civilizations. A 16mm short directed by Golden Globe-nominee Eric Stoltz and Neel Keller, written by Susan Miller, and starring Eric Stoltz and Frances Conroy (Six Feet Under).
If you're in the U.S., you won't need DirecTV to see it:
ShortsHD is available on DIRECTV (Channel 568), Dish Network (Channel 375), and AT&T U-Verse (Channel 1789). Access via iTunes will follow shortly after each premiere.
Hopefully, someone will share the film with the rest of the world too one of these days.
Meanwhile, Fort McCoy will be shown at the TriMedia Film Festival in Colorado in September. Source:
Included on the schedule is a screening of "Fort McCoy," selected for the 2011 Choice City Award for Best Feature Film. The film will be shown the evening of Sept. 10.
The staged recording of The Autumn Garden that Eric did about a decade ago has been posted on L.A. Theatre Works' site. Old, but hilarious. Check it out:
Part 1

Part 2

In this story by Lillian Hellman, friends and family gather at a summer boarding house, and old resentments are quick to resurface. And when the landlady's old flame comes to visit, his presence serves to bring the tension in the house to a boil.

Starring Mary Steenburgen, Julie Harris, David Selby, Eric Stoltz, David Clennon, Roxanne Hart, Glenne Headly, Lynne Marta, Gates McFadden, Tracy Middendorf, Jeronimo Spinx, and Scott Wolf. Directed by JoBeth Williams.