Eric Stoltz
The deleted scene from the DVD:
John Rogers (Leverage showrunner) has a new post up on his blog today with tons of info on the season premiere.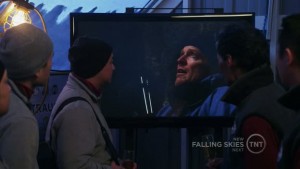 Here is a quote:
We can't move on from performances without mentioning Eric Stoltz, of course. He's an old friend of Dean's, and was super-generous to come in and play the two scenes we needed for Alan Scott. For the episode to work, Alan Scott's last speech had to be devastating. While filming it, the crew was watching it through the video feed, meaning they saw it from the camera POV. By the end of the first take, people had to leave the set, they were crying so hard. Stoltz had mad chops, yo. As the kids say.

He also sat there and played a corpse, saving us dummy money. We owe him a steak, still, for that.
Plenty more at Kung Fu Monkey.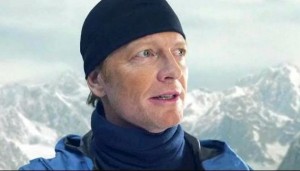 A nice find from Eric Stoltz fans on Facebook: a sneak peek from tomorrow's episode of Leverage, this time with Eric in it.
You can watch it here.
The episode airs tomorrow at 9 pm on TNT.
Edit — the clip has made it to YouTube:
Unrelated: Film Stalker mentioned Racing Patriots in a recent article about F1 movies. No updates, just this:
This could mark the beginning of a great period of motorsport films, we've just seen the Senna documentary and there's word of a James Hunt biographical film in development with Steven Spielberg's company at the moment and a loosely connected F1 film called Racing Patriots from Eric Stoltz which will follow three motor racing champions who worked with the French Resistance fighting during World War II.

DVD Talk mentions that Eric makes an appearance in one of the deleted scenes of Elektra Luxx, an R-rated comedy by Sebastian Gutierrez, starring Carla Gugino and Joseph Gordon-Levitt, which has been released on DVD today (Amazon link).
"Deleted Scenes" (18:44) offer a lackluster interview between Bert and a dim-witted pornstar, a moment of aborted intimacy between two supporting characters, and follows jittery personalities played by Eric Stoltz and Lucy Punch as they negotiate their first three-way.
Eric's cameo in Judy Moody is on YouTube.
A couple of new film/TV credits showed up on his IMDb page this week. One, an episode of A New Kind of Family from 1979, which isn't available anywhere, and the other, a video he did with Tate Donovan in 1995, produced by Yoko Ono and directed by Peter Bogdanovich, which has been on YouTube for a while now, along with some BTS footage. You can see it here.
And it looks like he is directing an episode of Californication this season. According to the IMDb, it will be episode 5.06. No details yet.
Hollywood Reporter has a new article today on Emmy contenders in the directing categories (link). Eric is submitted for Glee 2.04, "Duets." The nominations will be announced on July 14. THR:
Stoltz's Glee episode will battle Kaling's Steve Carell-farewell Office installment, while Gordon's Dexter is up against Matthew Weiner's Mad Men finale. Whether contending for comedy or drama, each of these 12 skilled directors would agree that this year, more than ever, it will be a honor just to be nominated.
And let's snag that quote:
Eric Stoltz
Glee (Fox)
Episode: "Duets"

"Anytime they break into song and dance, it's a massive challenge — both technically and emotionally. You want to be able to tell a story within the story of the song, and with the music and dancing — and the reaction — it can all be a bit overwhelming. Because the show itself has become such a phenomenon, a lot of the actors have become quite savvy and quite sophisticated in their sense of humor and their approach to the work. What I remember about directing this episode is that I tried to get them back to the place of innocence and wonder, perhaps when they were actually auditioning for the show and didn't have the job and weren't affected by the success of the show. I remember feeling a little guilt over two numbers in particular: Amber Riley and Naya Rivera did "River Deep — Mountain High" and Harry Shum Jr. and Jenna Ushkowitz did "Sing," and both of those numbers were incredibly exhausting for them. I kept asking for one more take, and I could see them literally about to collapse on the set. I felt like I was driving them too hard, but they are so passionate about doing good work that I overcame my guilt and they recovered — although they all told me how wiped out they were the following few days. It's a serious feeling you don't often get when you direct a show — that you're physically abusing the actors with the goal of creating something wonderful."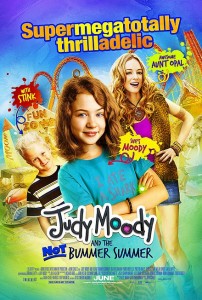 Los Angeles Times mentions that Eric briefly appears in Judy Moody (trailer), the new kids movie directed by John Schultz (When Zachary Beaver Came to Town, The Honeymooners) that opens in theatres in the U.S. today. Not the best review ever, but here is the relevant bit:
Cartoony and Crayola-bright, the high jinks might entrance very young moviegoers, but for all the shenanigans, which include not only unsafe driving but politically incorrect candy consumption, there's maybe one or two (half-hearted) laughs in store for anyone over 5.

Grown-up viewers can at least pass the time looking for familiar faces, Eric Stoltz's among them, in uncredited cameos. — L.A. Times
No idea how brief the cameo is, but it may or may not involve zombies according to this tweet. Dean Cameron is also in the film.
Synopsis:
(more…)