John Rogers (Leverage showrunner) has a new post up on his blog today with tons of info on the season premiere.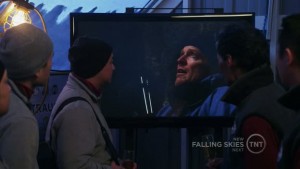 Here is a quote:
We can't move on from performances without mentioning Eric Stoltz, of course. He's an old friend of Dean's, and was super-generous to come in and play the two scenes we needed for Alan Scott. For the episode to work, Alan Scott's last speech had to be devastating. While filming it, the crew was watching it through the video feed, meaning they saw it from the camera POV. By the end of the first take, people had to leave the set, they were crying so hard. Stoltz had mad chops, yo. As the kids say.

He also sat there and played a corpse, saving us dummy money. We owe him a steak, still, for that.
Plenty more at Kung Fu Monkey.